OCCC 432 for 7 (Austin 163, Cope 83, Bugler 81*) beat Bradfield Waifs 166 (Jeffries 5-58) by 266 runs
A record-breaking 266-run victory over the Bradfield Waifs opened the season for the Old Cranleighans on Jubilee.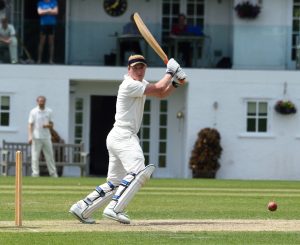 After a month or so of grafting on early season club wickets across Surrey, the OC batters were extremely excited about the opportunity to bat first on an excellent Jubilee wicket. The excitement proved a little too much for both openers, who departed cheaply, leaving the OCs precariously positioned at 20 for 2 after 5 overs. This early success for the bowlers, however, was the last time Bradfield looked in the game. Alan Cope and Freddie Austin combined for a superb 166-run third-wicket partnership, with both batsmen scoring all around the wicket at well over a run a ball. Cope's dismissal for a well-made 83, an accomplished 15 from Chris Preece, and a small Will Langmead contribution then paved the way for Sam Bugler. Bugler wasted no time in stamping his authority on proceedings, using a combination of reverse paddles and dismissive swats to drain all hope from the Bradfield bowling attack. Austin, meanwhile, moved effortlessly to his OC career best of 163 before skying one to midwicket – a timely reminder of his talents with Cricketer Cup selection around the corner.
There was no let up for Bradfield as some skillful team selection ensured that the OCs had front-line batters all the way down to No. 8. A cameo from Lewis Bedford, cementing his reputation as a handy lower-order finisher, and Bugler's continued ball striking took the total to a monstrous 432 off the 50 overs. This was the first time in 150 years that the OCCC had passed 400 in an innings.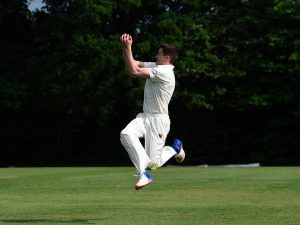 As the OCs took the field, there were concerns from some members of the home crowd that the captain was a little light on bowling. These concerns were soon allayed. Alex Jefferies bowled his 10 overs up the hill unchanged claiming  a career-best 5 for 58. In the seam department he was well supported by Will Rollings and Will Jay, with Seren Waters and Preece helping to mop up the tail with some devilish turn and bounce.
All in all, a strong start to the OCCC season and, as always, a good turn out from the home supporters.