The defence of our Cricketer Cup crown started with a tight 10-run win over Old Alleynians in a match we too often struggled to get out of second gear. The undoubted highlight was a brilliantly brutal hundred from Jack Scriven which gave us an early advantage we managed to hold on to.
That we played at all was largely thanks to a Herculean effort by the groundstaff after heavy overnight and early morning rain. They worked tirelessly for four hours, drying and preparing a damp pitch and sodden surrounds. This enabled a 2pm start for a 30-over a side match.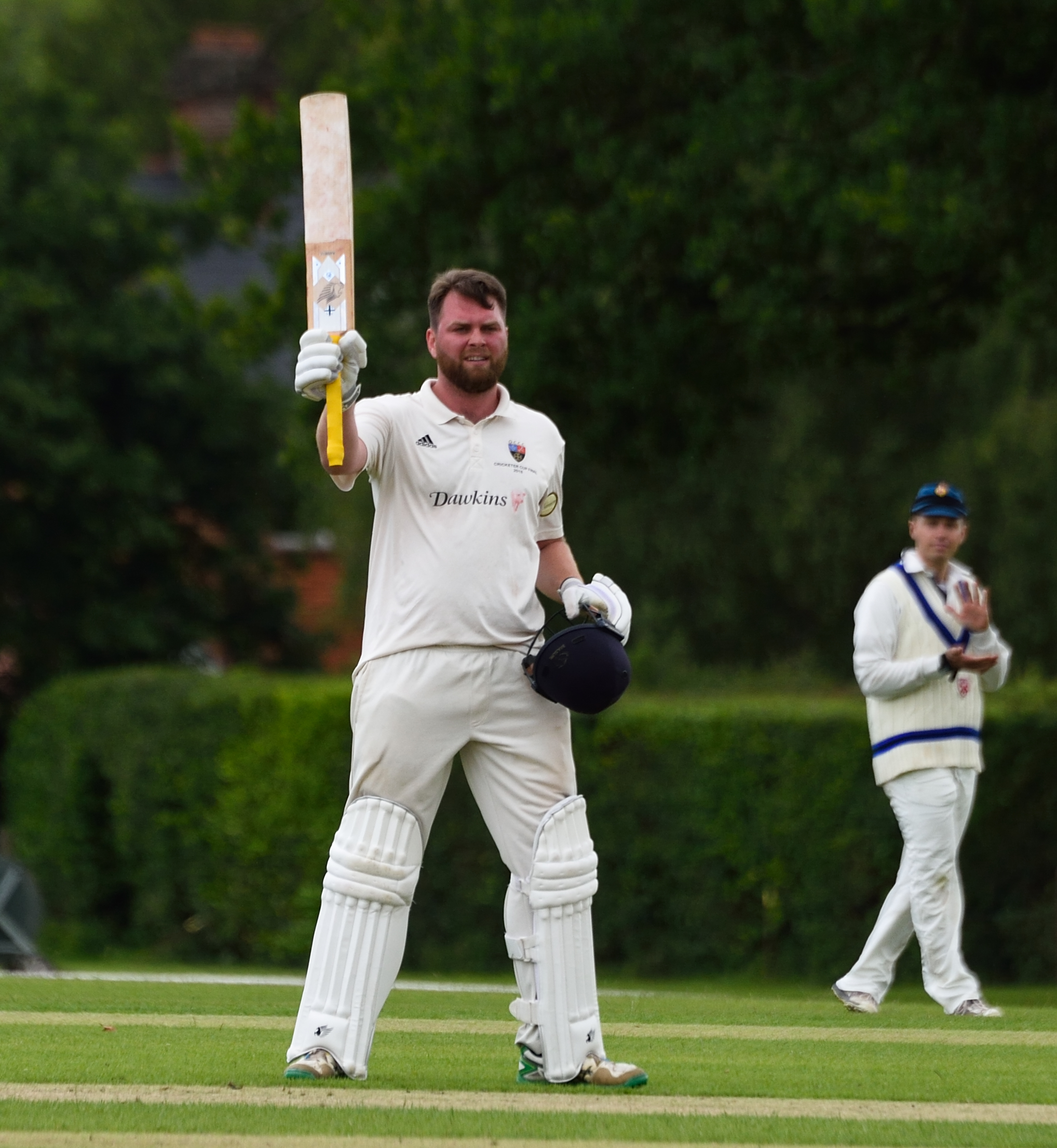 Put in to bat on a green track, the first two overs were uneventful before Scriven opened up. In patchy form coming into the game, he launched into the bowling with gusto, smashing four fours and two sixes off the first 12 balls he faced. The first six smashed the windscreen of Freddie Austin's father's car, parked dangerously close to the pavilion. The second cleared it by a long way. Two more smites to the same area led to a flurry of re-parking. Quick-fire bowling changes did little to stem the flow. He reached his fifty from 27 deliveries and his hundred from 44. His ton came up in 45 minutes – breaking the record for the fastest by an OC by nine minutes – and included ten fours and six sixes. He was dropped twice after passing fifty – one half-chance and one simple one – but it was a breathtaking example of hitting hard which would have brought a smile to Chris Gayle's face, as would Scriven's preference for boundaries rather than the tediousness of running.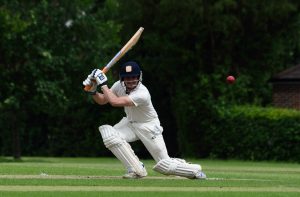 When he fell two balls after reaching his hundred we were 128 in the 14th over. His opening partner, Seren Waters, struggled to time his shots and wisely decided to surrender as much of the strike as possible. He fell for 24 almost straight away, and when Freddie Austin spooned a leading edge into the covers soon after, the Alleynians sniffed they were back in the game.
Alan Cope (24) and Bruno Borughton (33) kept the rate up in a fourth-wicket stand of 56 in seven overs, but the Alleynians kept a tight rein on the latter stages with the last 15 overs only producing eight boundaries.
Our final score of 236 for 7 was above par but still within range, whereas at one stage it has appeared as if we would be out of sight before the break.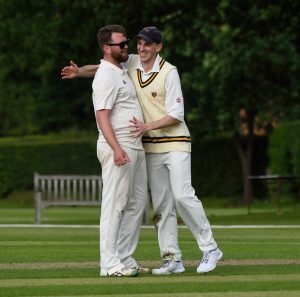 Our bowling, already weakened by injuries and cry-offs (something which, to be fair, also impacted on our visitors) was inconsistent and lacked its usual penetration. Alleyne briefly threatened to play a Scriven-like innings, smashing Karthik Suresh for 24 off his first two overs, before he fell to Nathan Thorpe for 41. With the Old Alleynians' best batsmen gone and 168 still required, the OCs sensed they were in the ascendancy. However, Roy (33), Sivakumaran (34), and Eadon (83) had other ideas, finding the boundary regularly through the middle overs to ensure Alleynians maintained the required rate. Eadon, in particular, took the attack to the OC spinners peppering the boundary at mid-wicket and extra cover with five fours and four sixes.
At 183 for 3, and needing a very gettable 57 from the final seven overs, the game was very much within the grasp of the Old Alleynians. Waters, who had taken some tap, made the vital breakthroughs in dismissing Sivakumaran and Eadon, and the Alleynians lack of depth to their order then became evident. Lawrence struck Thorpe for successive sixes to keep the outcome in doubt, and the visitors needed 17 from the final two overs.
Suresh bowled an excellent penultimate over, conceding four runs and taking two wickets with his final two deliveries, including Lawrence, and, fittingly, Scriven polished things off with two wickets in four balls.
We have had better days and will need an improved bowling performance if we are to reach another final, but a win is a win and for those who were there the memories will be of Scriven's magnificent maelstrom