OCCC 223 for 8 dec (Austin 63, Trower 55, T Ealham 3-56) drew with Cranleigh School 219 for 8 (Pyle 83, T Ealham 54, Trower 3-45, Cooper 3-56)
Click here for scorecard and wickets
Click here for match photos
The annual match against the School ended in a draw, but behind the result was a game in which the fortunes swung back and forth and in which the last over started with any one of four results possible. In an era when most matches are played in a limited-over format, this was a wonderful advertisement for the more traditional declaration game.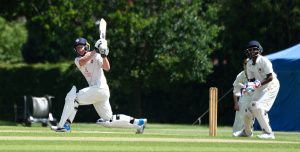 As is traditional, the OCs batted first and got off to a flying start thanks to bright, attacking cricket by Freddie Austin (63) and Ollie Trower (55) who added 94 for the first wicket. Trower departed trying a reverse sweep, but Lewis Bedford (34) kept the positive start going with Austin. Three wickets shortly before lunch brought the School back into the game, and after the break only Ed Cooper (40) was able to master the bowling.
The target was 224 off what was to be the same number of overs – 49 – and Chris Pyle (83) and Tommy Ealham (54) had few problems in an opening stand of 120. Nat Lubbock, who had not bowled in two years, made the breakthrough, bowling Ealham round his legs. He followed with two more wickets in his next four deliveries, and with Cooper clipping the top of Tommy Lawes' off stump in the next over, the School had collapsed from 119 for 0 to 122 for 4.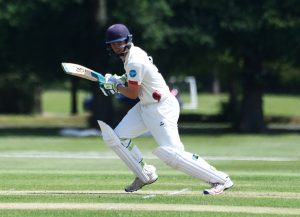 Pyle kept pushing, and with Harvey Stiles (20) steadied the ship, but both fell in successive over from Trower as the game again swung in favour of the OCs. Cooper returned to bowl Jonty Marshall with 32 still needed, but George Ealham (28*) and Max Bell continued to go for the win. The last over began with 13 required which proved just too much an ask.
Both sides were among the youngest ever fielded in the 150 years since this fixture was first played. The oldest member of the OCCC side, much to his horror, was 22-year-old Rory Kennedy; three of the School team are in the Lower Vth while another, Luke Webster, making his debut, is in the IVth form. The future is bright.
This match also made a little history in that it was the first to be broadcast live on YouTube courtesy of the new Pitch Vision scoring system bought for the School by the OCCC and OC Society.