The 2019 Cricket Week was a thoroughly enjoyable affair with sunshine throughout, some excellent individual performances, a lot of keen youngsters taking part, and some enterprising and intelligent captaincy from Eds Copleston.  In all we won three, drew three and lost one.   There were six hundreds scored by us, equalling the second for a cricket week set in 2015.   The week ended early as by mutual consent the Buccaneers fixture was cancelled because of England reaching the World Cup final.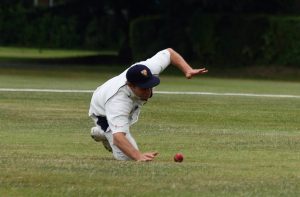 OCCC 260 for 4 (Bugler 108, E Stiles 73) beat Old Malvernians 182 by 78 runs
The week end with an comfortable win in glorious sunshine over a Malvern side who lacked enough depth in their batting. Sam Bugler's second OC hundred backed by Lower VIth former Ethan Stiles' 73 on debut – they added 184 for the second wicket – dominated the OC innings. Stiles' impressive performance showed the depth of Cranleigh cricket as he has yet to make his 1st XI debut. Malvern came out the blocks flying and after seven overs were 57 for 0. But the first wicket changed the game and despite some gentle slow bowling the Malvern batsmen kept hitting catches to fielders – all ten wickets fell in the same way. Malvern only batted 25.2 overs.
OCCC 229 (Bedford 71, T Cooper 55, E Copleston 33) lost to Old Johnians 233 for 5 (Campopiano 100) by five wickets
This proved to be the only really one-sided contest of the week as we were outgunned by a strong Johnians side. Before lunch we were totally reliant on Lewis Bedford's 48-ball 71, which included 13 fours, but aside from him none of the top order got going. From 139 for 6 at the break we only posted a decent score thanks to a 74-run seventh-wicket stand between Copleston and Tom Cooper, the highlight being the latter's two delightful guided fours over the slips from short-pitched balls. The Johnians reply gave every impression they had to be somewhere soon as they started at 10-an-over. Although they slowed, they game was done and dusted four overs into the final 20, and only some late wickets gave us any respectability.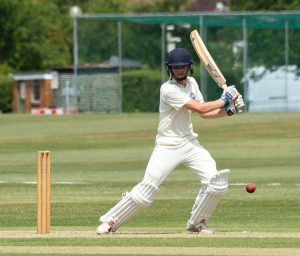 OCCC 263 for 7 (T Cooper 107, Bugler 65, Trower 44) drew with Wimbledon 262 for 9 (Spellar 108, Trower 6-88)
An enjoyable game against a friendly opposition, and one which again the last over started with four results possible. Tom Cooper made hay against some friendly bowling from his own club side, bringing up his maiden hundred off 91 balls. It followed his brother Ed's maiden hundred earlier in the season, and they became only the third set of brothers to score hundreds in the same season. Sam Bugler steered us to a defendable score after a collapse either side of lunch. Wimbledon seemed set for an easy win as they raced to 157 for 0 but then a different game broke out once Spellar's 78-ball hundred ended when he all-but donated his wicket. Ollie Trower wheeled away from the bottom end to great effect taking career-best figures as Wimbledon's innings imploded. He was denied another wicket when Drummond declined to walk after an edge which may have woken slumbering infants at the far end of the village. The splenetic reaction of the fielders was all but matched by the simmering disgust of his team-mates. Unrattled and detached, Drummond took his side to the brink of a win but, perhaps fittingly, with seven needed off the last over he declined several easy singles only to fail to hit the boundary required off the last ball. It was the right result and, that incident aside, a very enjoyable match.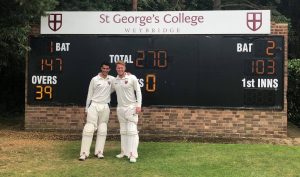 OCCC 363 for 6 dec (Waters 182, B Scriven 104, Keightley 5-69) drew with Old Georgians 289 for 9 (Cunningham 129)
The annual game at Old Georgians – our longest-standing fixture other than the School match – ended in a high-scoring draw. Remarkably there were no MNG casualties and we had 11 men at the ground well before the start for the first time in years. Seren Waters (182) and Brad Scriven (104) put on 273 for the first wicket (all but three runs before lunch), a club record for any wicket breaking the 267 for the first wicket against OGs in 2007, which also featured a Waters hundred.  This was Waters' sic OC hundred, typing him in first place for most centuries, and was the third highest score in the club's history.  Scriven now has five OC hundreds.  We set OGs a stiff target of 364 in 49 overs and at 199 for 3 off 33 overs they were well in the game. But a brace of wickets each from Hugo Puddle, Waters and Ollie McDonald (who has travelled from Somerset to play in the week) saw OGs slide from 280 for 5 to 284 for 9, the last pair holding on for four overs to earn the draw.
OCCC 316 for 5 dec (Selby 107, Howard 103, Bugler 47) beat Flashmen 297 for 9 by 19 runs
At the request of our guests this was a 45-over-a-side match and as it turned out that produced an entertaining game which for the third day running went down to the last over. After losing Brad Scriven early, the OC innings was dominated by a second-wicke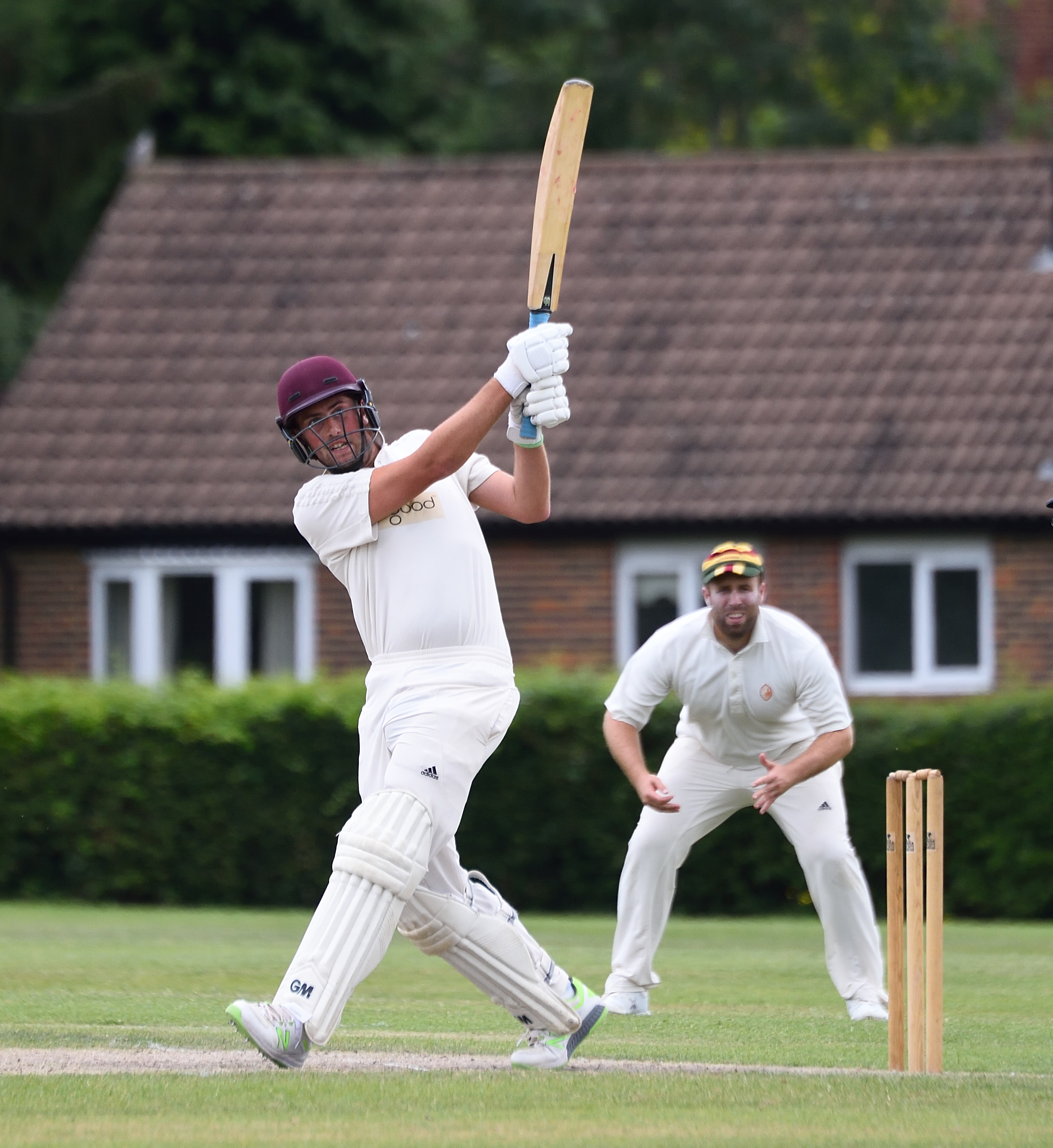 t stand of 182 between Will Howard and Tom Selby. Selby's maiden hundred included some hammering drives and pulls, while Howard's well-paced innings included more singles and twos than he would have cared for. Sam Bugler continued the assault in the final overs. Flashmen's reply contained some breezy cameos – although special mention to Lucas La Costa from the Upper VIth who made an impressive 87 –  and they remained in the hunt, aided by some eclectic bowling, but in the end their lower order just ran out of puff. An enjoyable day ended with Paddy Harman's equally enjoyable BBQ.
OCCC 209 for 8 (Davies 81, Harris 52) beat Eton Ramblers 208 for 5 (Harrington 56*, Charlton-Smith 55, Foster 2-22, Subba Row 2-29) by two wickets
Overnight rain meant a late start and a 30-over-a-side match which again went down to the final over. Eton scored freely, although Max Subba Row and Max Foster bowled well to lock down the middle overs. Eds Copleston generously brought on the loopy variation of Jonny Gates late on which eased the visitors past the 200 mark. We lost both openers quickly but then Ollie Davies (81), Sam Bugler (29) and Jamie Harris (52) all batted impressively to keep us in the hunt, Davies and Harris smashing some big sixes on the way. A flurry of wickets in the last few overs checked our progress, and when Davies fell to the second ball of the final over with one needed the game hung in the balance, especially as our No.11 Dan Chitty was still scrambling to get changed. As it was, Foster turned the ball behind square where it was brilliantly stopped; with both batsmen committed to the run, had the throw hit Will Jay would have been run out by yards. As it was it narrowly missed and we had edged a win with three balls to spare.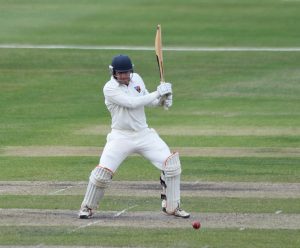 OCCC 273 (Harris 60, Copleston 44, Puddle 43, Jay 34*) drew with Old Millfieldians 220 for 9 (Dann 67*, Chitty 2-23)
The cricket week got underway in glorious sunshine and with an RAF Red Arrows flyover shortly after the start, and the opening match went down to the wire. A pre-lunch wobble saw us slump to 137 for 6 after Jamie Harris had made 60, but veteran skipper Eds Copleston (44) and debutant Hugo Puddle (43) rescued the innings, while newly discovered batsman Will Jay (34*) added late runs. Almost all the Millfieldian top order made starts without going on to play a big innings, Dan Chitty (3 for 23) and Puddle (2 for 42) the standout bowlers. At 199 for 9 with five overs left we looked set for victory but the obdurate Dann (67*) was rejoined by opener Wright, who had earlier retired hurt with a pulled muscle, and the pair successfully played out for a draw.