OCCC 270 for 5 (Dahl 91*, Bedford 56, Austin 54) beat Cranleigh School 245 for 9 (G Ealham 85, Lawes 66, Dickson 5-18) by 25 runs (40 over match)
Click here for match photos
The hastily arranged match between the OCCC and the School, formed largely from the departing UVIth, finished in a 25-run victory for the OCs. It is safe to say the day, which was largely about giving the leavers a final outing together after missing the entire season, was a great success.
With the School facilities unavailable, Cranleigh CC kindly allowed the match to take place on the Common and on a scorchingly hot afternoon the parched and brown outfield made for a high-scoring contest. The presence of a large crowd – for many of the UVIth their first chance to get together en masse since the start of lockdown – helped make a memorable occasion.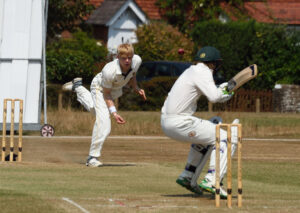 Lewis Bedford's OC side was largely based on the 2017 School XI, arguably one of the best sides produced by Cranleigh, and after Harvey Styles posed both Bedford and Freddie Austin some early problems, both soon found their rhythm and scored with relative ease. When Bedford fell for an impressive fifty, Angus Dahl took over , increasing the pace with orthodox shots interspersed with innovative scoops and paddles. Austin got out soon after completing his fifty, but Dahl and the middle order maintained a run-rate of over ten an over in the final stages as the OCCC posted 270 for 5 in their 40 overs.
Sam Dickson removed both School openers in his first three overs but that brought together George Ealham and Tommy Lawes who both batted with a perfect mix of aggression and placement a in a stand which at times threatened to make a mockery of the chase.
Successive bowling changes failed to slow the run rate and it was a surprise when Lawes tamely chipped to point with less than 100 needed. A much bigger shock came when soon after Ealham was bowled by the friendly legspin of Harry Horstead to the delight of everyone including, unusually, the umpire who momentarily forgot himself.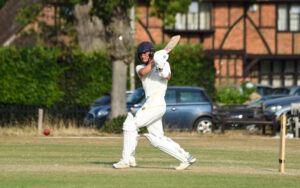 That dismissal robbed the impetus of the chase, although Ethan (35) and Harvey Stiles (21) kept the School in the hunt even though the rate needed climbed into double figures. The re-introduction of Dickson all but polished things off with three wickets in nine deliveries.
Huge thanks to Cranleigh CC for allowing us to play on a pitch which was home to the School for its first 60 years and for providing bar and catering facilities, and to George Ealham and Lewis Bedford for arranging the sides.