Blackheath 189 (W Melhuish 75, Subba Row 5-15, Bugge 3-46) beat OCCC 103 (S Langmead 53, Subba Row 25, Freeth 4-23) by 86 runs
Click here for match photos
After escaping from jail at Abinger a week earlier, there was no such reprieve at Blackheath for Eds Copleston as his much vaunted all-star top order folded with barely a whimper in an 86-run drubbing. That said, there are few better places to play cricket in the height of summer and that to some extent made up for the defeat.
Despite a temperature in the mid 30s and the sun beating down, Copleston chose to field, using the age-old ploy of avoiding a mutiny by telling his players he had, in fact, called incorrectly. He showed no inclination to owning up as Blackheath came out of the blocks flying, reaching 70 off seven overs before Tom Hufton took the first wicket. Alan Cope's stay, to general relief, was brief as he was well caught by Chris Pyle off Phil Roper for 14 but those were rare pluses. The onslaught continued unabated – Rory Kennedy coming in for some severe punishment on a parched and fast outfield – and at 181 for 3 from 28 overs, Blackheath captain Graham Webb was pondering when to declare while on the other side Brad Scriven was suggesting to Copleston that
he bowled to "give them 30 or 40 easy runs" to speed things up. Neither needed to worry.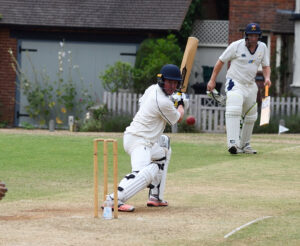 In a bizaare four and a bit overs, Blackheath lost their last seven wickets for eight runs. David Bugge, who at the time had 0 for 44 from six overs, made the breakthrough and took three wickets in an impressive eight balls, while at the other end Max Subba Row grabbed four in six, ensuring Henry Watkinson's four-wicket pie throwing at Abinger would not see him top the averages in the shortened season. The innings ended with a replay of the 1975 Cranleigh house matches as Bugge (West) trapped Webb (1 North) lbw.
The OC order was, on paper, strong. On paper. The only shred of mitigation was that during the break the sunshine gave way to grey cloud, and allied to the humidity the batting become slightly harder. But that does not excuse what followed. Will Langmead shouldered arms to the first ball of the innings and lost his off stump to the impressive Archie Freeth (currently going into the School's UVth) , Chris Pyle and Sam Buglar edged behind, and then Brad Scriven and Phil Roper were bowled to leave us 11 for 5.
Sam Langmead took the bowlers on with some lusty blows and a few edges to restore some semblance of dignity but by then the game was long gone. Copleston played all round a straight one to give Freeth his fourth wicket ("I must have got an inside edge .. I haven't been clean bowled since I was four") and only some late boundaries from Subba Row saw us to three figures.
The travelling OC support, packing up for an early return home, were treated to the sight of Bugge going out at No.11 for what he muttered was the first time in his life. At least he avoided getting out to Webb who fittingly polished off the innings.
A beautiful setting on a lovely day. Sadly, a game to forget.