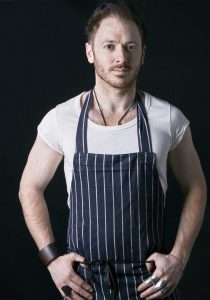 Ollie Dabbous (2&3 South 1999) is building on his huge successes in the London restaurant business.  In 2012 he opened his eponymous Michelin-starred restaurant in Whitfield Street, received rave reviews from top chefs like AA Gill and Faye Maschler and more mortal newspaper critics.  It is contemporary cooking without fine-dining pomp or ceremony. Oskar's cocktail bar is downstairs.  There is still a three-month waiting list for dinner bookings.
"We are launching our next restaurant at Henrietta Hotel with ECC (Experimental Cocktail Club) on Henrietta Street in Covent Garden in the spring, probably April," Ollie said. "It's an 80-seat restaurant and bar spread over two floors with a mezzanine, serving breakfast, lunch and dinner seven days a week, in the heart of Covent Garden.
"The ECC guys have quickly become good friends of mine, and so far it has been a lot of fun working with them. The design looks beautiful, it's a great location and I have every confidence in the team we are assembling there. We are currently testing the menu and finalising kitchen design, tableware choices etc etc."
Xavier Padovani of the Experimental Group said:  "We are thrilled to be partnering with Ollie on the restaurant for our first London hotel.  He is leading the way in London gastronomy, and we have come to know him well, so this is the perfect fit for us."  He added that the food will be simple and seasonal and ingredient-led with "a subtle nod to France".  Cocktails will also pay a pivotal role, with drinks historians and cocktail specialists Jared Brown and Anistatia Miller on board.
Ollie adds:  "Otherwise, all well, I still cook at Dabbous and enjoy life in the kitchen."