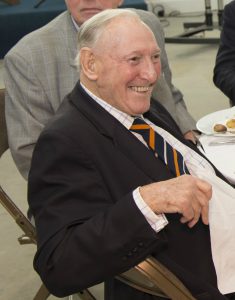 Derrick Carter-Clout died in the early hours of Monday March 27 2017. He was 96. Derrick was a kind, enthusiastic and generous supporter of all things OC and Cranleigh.
Born in Norbury, South London on August 13 1920, he was at Cranleigh between 1934 and 1938 during which time he boxed for the school. On leaving he joined the army where he became a captain in the Honourable Artillery Company.
After tours in Singapore and India he returned to England to study at the London School of Building in Brixton, becoming a Fellow of the Faculty for the Built Environment. He also volunteered to help get the OCRFC back on its feet by running the B XV in 1946 and he continued to play until he was in his 40s and remained in touch, regularly attending the Golden Oldies lunches. He was also an active member of the OC Lodge.
His early years in business were spent in the family building firm of Clout & Tysoe. George Tysoe's only daughter Beryl married Paul Shirville, with whom Derrick then joined forces in 1948 to run a company set up in Neal Street, London, to supply architectural ironmongery. The business was called Allgood.
Derrick's flair for sales, combined with Paul's abilities in administration, led to the creation of an operation based on the principles of innovation and customer service, which generated growth for many years and secured the company's position as the UK's premier ironmonger. The successful duo retired in 1980, passing the business to their sons who remain joint owners today.
His trademark bowler hat and carnation are remembered with affection by many Allgood staff, who would also attest to his undying enthusiasm for a trade he could never let go. Until as recently as six months ago, he would still contact the company to make sure they were talking to the contractors on a site he had just driven past in his taxi.
"What a remarkable OC we have lost," said Mike Payne. "One of the most loyal, the most vibrant and the most generous."