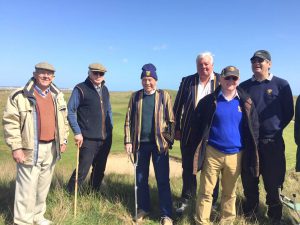 The OCs approached the 2017 Halford Hewitt with a cautious optimism. On the one hand we were fielding one of strongest teams for years, although that optimism was tempered by the knowledge that we were facing Eton, 12 time winners, victorious in both 2013 and 2015. Sadly the OCGS curse of ill health/injury forced the withdrawal of both John Davies and Marc Sadler the week beforehand but we were able to draft in the veteran Willy Porter and Frazer Moore, likely competing in one of his last remaining amateur events before turning pro, to step in to their shoes.
We teed off under sunny skies at Royal St George's on Thursday morning and got off to a positive start, with our collective noses in front after 7 holes. Unfortunately Eton's class started to show through the turn. Our army of supporters amassed on the 10th green (our opponents were amazed the sheer numbers of our supporter as they walked up the fairway) were dismayed to witness four of our five of our pairs losing that hole (the other got a half). As the matches progressed, time after time it seemed that Eton just managed to hole that vital seven-footer whilst the OC ball slid by. The top three matches all lost with a couple of holes to play, meaning that pairs four and five picked up their balls and, somewhat gratefully, took halves.
Pairings were:
Adam Kendrick and Charlie Craddock – lost 3/2
Craig Moore and Frazer Moore – lost 3/2
Giles Pickford and Tom Cary – lost 3/2
Tony Whitty and Jamie Richards – half
Willy Porter and Marcus Ferguson-Jones – half
Eton beat Cranleigh 4-1
Eton went on to lose their next round against Malborough 3.5-1.5
Somewhat chastened the OCs proceeded to participate in the plate at Prince's. Here we faced Blundell's. Once again the OCs were vanquished, as tight matches went the way of slightly cannier opposition.
Pairings were:
Frazer Moore and Marcus Ferguson Jones – won 1 up
Tom Cary and Adam Kendrick – lost 1 down
Jamie Richards and Charlie Craddock – lost 1 down
Once again our biggest positive was our supporters – numerous, enthusiastic, vociferous in their support for us. It continues to be our greatest asset. It is hugely appreciated by us and noted (as mentioned above) by all the other schools we play. I am sorry that we could not give you a little more to cheer on this year. We forward to the opportunity to try to address that in the 2018 Halford Hewitt.
Captain Marcus Ferguson-Jones