The annual Gower Club match against the School 1st XV provided the boys with a tougher contest than we have seen for a number of years, even though the 1st XV eventually ran out comfortable 44-7 winners.
On a warm and sunny afternoon and with the touchline packed with recent leavers, current pupils and parents, the School started brightly and controlled the early play, moving into a 17-0 lead within 15 minutes. But then the OCs upped their game, putting in some tough tackles with Bear Williams and Ollie Barrow to the fore. A five-minute spell when the OCs ran the School ragged was capped by a try from Barrow which was celebrated as if it had won the match. The 1st XV scored again before the break but it was a below-par first half by a side unbeaten this term.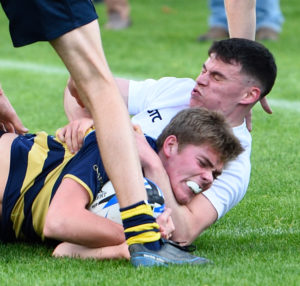 Inevitably, the OCs tired in the second half and the School began to exploit the open spaces, running in another four tries without their own line being seriously threatened. That said, the OCs kept battling and putting in crunching tackles to the very end and it was far from the stroll in the park for the School it has been in recent years. There was a lengthy delay after Tom Hills sustained a concussion but we are pleased to report he was discharged from hospital later that evening with nothing more than a sore head.
The match between the 5th XV and the Gower Club 5th XV was, as always, much closer with the old boys running out 24-0 winners. Both sides had chances in the first half but poor handling at crucial points cost them scores. The OCs took the lead on the stroke of half-time with a controversial try, and the game remained in the balance until the OCs ran in two late tries as the School threw everything into attack.