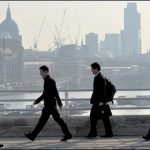 The Old Cranleighan Mentoring Programme (OCMP) is one of the most exciting initiatives undertaken by the OC Society for many years.
Seb Sharpe (East, 2011 – this year's intern) has designed and implemented a new programme to assist young OCs in finding and deciding on a career. Being an Old Cranleighan is to be part of a unique network and some of the most successful people in this country and abroad are OCs. The success of the professional OC societies such as the City, Law, Media and Property is not coincidental in a time when finding jobs is hard and the landscape is ever more competitive. Good people are struggling to get jobs right now and a guiding hand from an experienced professional can make all the difference. As a young graduate its hard enough to decide on a career path let alone to understand the system and be able to navigate an interview or gain some priceless work experience.
The recent Cranleigh Midsummer Ball demonstrated how much parents value work experience opportunities with summer placements going for thousands of pounds in the auction. As a result, the OC Society recognised it was able to use its vast network to help and so has developed a full mentoring programme which aims to align experienced professionals with young OC undergraduates offering them advice and insight into their chosen careers.
We have already managed to sign up 40 mentors ranging from bankers to lawyers to movie executives to doctors and most things in between. We have offered the service initially to those in their second year at university and the take up has been strong. The rasults have been instantly impressive with one candidate already securing a job role at one of the largest management consultancies in the world. We are hoping to expand this later in the year once we have received some feedback and added some administration support.
As an example of the potential our programme could achieve, Harrow launched a similar initiative in 2004. They now have a network of 1200 Old Harrovians who have agreed to provide work experience or careers advice covering over 80 different professions and have placed over 700 of their fellow alumni in seven years. If they can achieve that there is no reason why we can't top it given how active OCs are by comparison.
We have included with this mailing an information sheet which we hope you will want to complete to become part of this programme, either as a mentor or mentee.
For mentors, the commitment is not onerous and we are respectful of what you can offer. We have developed a set of protocols and safeguards to ensure that identities are protected and people's time is not wasted. If we are successful this could become one of the most important initiatives the OC Society has developed.