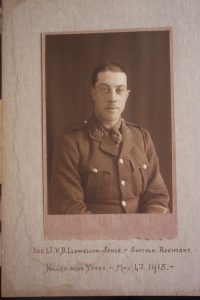 The first nine months of World War One had a marked impact on Cranleigh School, as a number of masters left to join up and hundreds of Old Cranleighans, dozens who had only left in the summer of 1914 and many others with brothers at the School, did likewise.  There there had been casualties and eight deaths by the start of May 1915,  but that month proved to be one of the worst of the war with nine OCs killed, eight in the first ten days alone.
On May 4, 2nd Lieutenant Vivian Llewellyn-Jones (23)  and Corporal Arthur Johnson (20) died .  Both had left in 1911. Llewellyn-Jones had already been wounded and had only just returned to the front line.
The following day 2nd Lieutenant Kenneth Hinde (23) of the Australian Infantry died on board a hospital ship of wounds received on the beaches at Gallipoli.  He had been engaged less than three months.
On May 8, Rifleman Eric Haines (24) was killed when the 12th London Regiment launched a counter-attack to capture a lost trench; it succeeded but at a huge cost, with every officer killed, wounded or taken prisoner. "The Battalion had to pass through a gap in the barbed wire in front of the GHQ line on which German machine-guns were trained, and suffered heavily in its passage," wrote Sir Herbert Plumer. "The whole of the ground over which the further advance took place was heavily shelled, and in places exposed to heavy rifle and machine-gun fire, so that the Battalion rapidly dwindled." Later that day 2nd Lieutenant William Sadler (18) of the South Lancashire Regiment was killed by a shell while deepening trenches on the infamous Hill 60.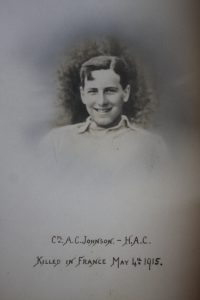 Also on May 8, the Dennison brothers both fell.  2nd Lieutenant Ralph Dennison (36) died when shot as he reached the enemy lines after leading a bayonet charge by the 5th Royal Sussex. "It was the biggest fight of the war," one of the few survivors said. "I lay in the open from 5.30 till half-past-three in the afternoon. I was the only one left of our little lot that went over. My mates fell like skittles." In a separate action, Captain Harry Dennison (33) of the Princess Patricia's Canadian Light Infantry (Eastern Ontario Regiment) died at St Eloi during an intense bombardment ahead of a German attack on the first day of the Battle of Frezenberg. Neither brother has a known grave and they are commemorated on Memorials to the Missing: Harry on the Menin Gate, Ypres, and Ralph at Le Touret.
On May 9 Bombadier Frank Willicombe (29) died in an accident shortly after his ship arrived in Marseilles from Bombay where he had been stationed with the Royal Garrison Artillery.
The final casualty of a wretched month came on May 20 when Captain Edgar Brock was killed by a stray shell at St Eloi, near where Harry Dennison fell 12 days earlier. He was 48 and had left Cranleigh 30 years earlier. A professional soldier since 1889, he had fought in the Boer War.
The OC losses in May 1915 were only surpassed by those in July 1916 (20) and April 1917 (12).
.