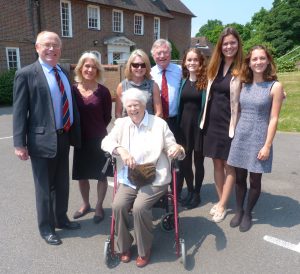 David Emms, who died on December 21 last year at the age of 90, was Headmaster of Cranleigh from 1960 to 1970 during which time he made an indelible mark on the School's history.
A service of thanksgiving was held for him in our Chapel on Sunday 5 June, attended by upwards of 150, including his widow Pam and other members of David's family, Old Cranleighans and friends. It was a memorable and moving occasion as a very special life was recalled, through the words of our chaplain Tim Lewis, through the music conducted by Hilary Davan Wetton (a director of music from David's time) assisted by organist John Holloway (a pupil in David's time), through the tribute spoken by Mike Payne (who was appointed to Common Room by David), and through the lesson read by David's son Richard and poems spoken by David's grandchildren.
Appropriately the sun shone brilliantly and the vibrant reception was held after the service in the Emms Centre, which David had opened in 2010.
David always said that Cranleigh was the jewel in his career. His words on his final Speech Day included these:  "In my heart I know – and this with no disrespect to any other school – in my heart I know that I shall never see the like of it again."
This is also true – we will never see his like again.