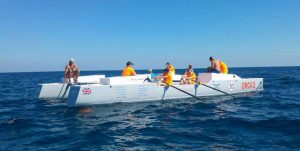 Ted Jackson (2&3 South 1990) and Howard Wagstaff (Cubitt 2004) are part of a ten-man crew who will be attempting to row the Atlantic in record time.  Ted's son, Oscar, who was at Cranleigh Prep, will also be part of the crew.
Their large catamaran, ORCA 2, set off from Agadir on December 5 and will start its official crossing from Tarfaya in south-west Morocco on December 11.
The present record is 33 days 21 hours, and the team aims to achieve "the four-minute mile of ocean going" by crossing in 30 days or less. Among other records which may be broken are those for the fastest ten-man crossing, the fastest multihull crossing, the fastest ocean rowing boat of any description to row across the full extent of the Atlantic ocean, and the most miles covered in 24 hours.
Ted is once again looking to raise money for Overcoming MS and you can sponsor him here.
You can follow the boat's progress on the website of the Ocean Rowing Club of the Atlantic: www.orcarow.com