On June 6, 1984, Cranleigh held a parade to mark the 40th anniversary of the D-Day landings. Alan Smith wrote about it in that year's Cranleighan.
"If civilized society is to survive, pacifism can only be the luxury of a tiny minority." We had heard John Lowry's words in his Remembrance Day sermon, and it was fitting that he should have organised a Commemoration Parade at Cranleigh on 6th June, the anniversary of the D-Day landings in 1944.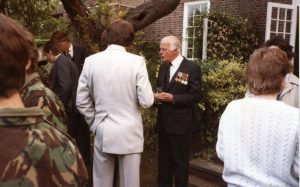 Even to an avid follower of the Falklands campaign, the reality of war – particularly of what for my generation is a distant one -. is too easily obscured by the retrospective glamour of victory. To stand at attention at 6.30 am next to colleagues who had been part of that reality is a chastening experience. Theirs must have been a different commemoration from that of which I was capable.
John's address, after the raising of the British, Canadian, American and French flags by boys from those countries, gave the assembled company a sense of both immediacy and perspective: "Obviously the focus of events is in Normandy, but here in Cranleigh our small ceremony gains added meaning from the presence of several veterans. Marc van Hasselt, then a 2nd Leiutenant in the Royal Horse Artillery, landed in his tank on D-Day at Le Hamel, a small village just east of Arromanches. He tells me that he had his first bath on D+11 in Bayeux!
Tim Gregson, then a Lieutenant in the Royal Engineers, landed on D+2 and was soon involved in repairing bridges at the mouth of the River Orne. David Elliott, formerly of East House and now a School governor, landed in Normandy on D+11. At that time a Captain in the South Notts Hussars, RHA, he had already won the Military Cross for gallantry in North Africa: following the Normandy campaign he was to win a Bar to this medal in the assault across the Rhine. John Stephens, though not directly involved in the landings, was aboard the battleship 'HMS Duke of York' in the North Sea, guarding against a possible German naval incursion into the Channel. Ken Hill was an Air Engine Fitter in the Royal Air Force: based on an airfield in Suffolk, he worked night and day throughout the invasion maintaining British Spitfires and American Mustangs engaged in strafing the enemy in Northern France."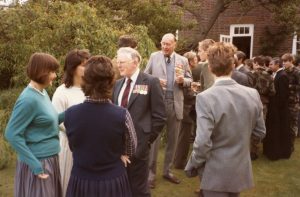 We heard a recording of Communiqué 1 issued by Supreme Headquarters Allied Expeditionary Force at 09.00 hrs on D-Day; a powerful declaiming by John Savage of Henry the Fifth's speech before Agincourt; a recording of Richard Dimbleby's BBC despatch from Normandy; and, following a silence in remembrance of the dead, a performance on the clarinet by Michel Marty of 'La Marseillaise' – the instrument's reedy timbre cutting movingly through the still air of the summer morning.
A champagne breakfast followed in the Headmaster's garden: one was grateful to enjoy it, 40 years on.