It's been a busy few months for OCs across a variety of sports.
In hockey Izzy Petter (South 2018) was part of the England side who reached the quarter-finals of the FIA Womens' World Cup, scoring the opening goal in the first match. She also represented Great Britain in the FIH Pro League in May and June, as did James Gall (Cubitt 2012) and Will Calnan (Cubitt 2014).
Hayden Hyde (East 2019) and Jamie Barden (Cubitt 2018) were named in the England Rugby Sevens squad for the Commonwealth Games which starts at the end of July. Will Collier (East 2009) represented England v the Barbarians at Twickenham at the end of May.
Ollie Pope (Loveday 2016) scored his second Test hundred for England v New Zealand at Trent Bridge in June. Tom Lawes (Cubitt 2020) made his first team debut for Surrey v Sri Lankan Development XI in May and followed with appearances in the T20 Blast and County Championship, taking 4 for 51 against both Kent and Yorkshire. Michael Burgess (North 2012) enjoyed a spectacular start to the season for Warwickshire, scoring 178 and 170 in his first two innings. Callum Job (Loveday 2018) represented Oxford University in both the T20 and four-day Varsity matches.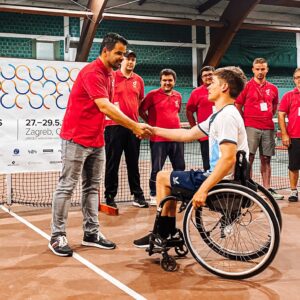 Greg Slade (Cubitt 2020) won the quad singles title at the Sirius Open in Zagreb in May, dropping only one game in his three matches. That came hot on the heels of the biggest win of his career when he defeated world No.9 Bryan Barten 2-6, 6-2, 6-2.
A relatively young OC Golf team reached the third round of the Halford Hewitt, defeating Merchiston and Framlingham before going down to Radley.
The OC cricketers reached the quarter-final of the Cricketer Cup, beating Downside and Uppingham before losing a nail-biter at Wellington. That was followed by a successful cricket week where we won five with one draw and one loss.
The OC hockey Club Ladies 1st XI finished the season with a remarkable run of 17 straight wins to secure the London South Division One title.