The School won both the annual Gower Club matches by easy margins, although the School 1st XV were given a hard first hour before fitness and desire told.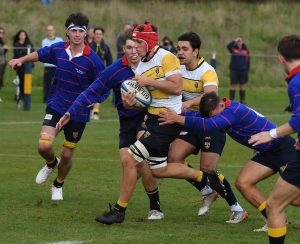 The School started well although a strong Gower side held them to 10-0 (a penalty and a converted try) until a second try on the stroke of half-time. The second half saw the Gower Club enjoy their best spell of the game as the School were reduced temporarily to 14 after a dangerous tackle in the air, and their possession was rewarded when they scored what was only their fourth try in eight outings. At 15-5 the School looked rattled but within two minutes scored courtesy of a harsh penalty try. That seemed to deflate the Gower side and thereafter it was largely one-way traffic and the boys ran in tries almost at will in the final minutes in a 43-5 win.
The 5th XV game has traditionally been a close and hard-fought affair, and on paper this year looked like it would be a cracker. Instead it turned out to be a damp squib. The School dominated from the kick-off, running in four tries in the first 15 minutes as the Gower Club missed tackles, lost possession and failed to progress much beyond the half-way line. The second half at least proved a little more even, with the Gower Club scoring once, but by then the result had become a foregone conclusion and the boys ran out 45-5 winners.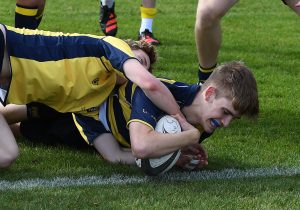 This is always a hard fixture for the visitors as the School are match fit and have trained together regularly, while the Gower Club's fitness can best be described as patchy. The gulf between the sides is further exacerbated by the better players from the previous summer's leavers not being available as they are committed to serious, in some cases professional or semi-professional rugby. Next year, given the likely strength of the XV, could be a tough one. But on the plus side the day is always hugely enjoyable, especially for the returning leavers who throng the touchline in large numbers.