Alex Winch (Cubitt 2007) and his business partner Sam Fiddian-Green have created the hugely popular Hilltop Kitchen in between Hascombe and Godalming in the Surrey Hills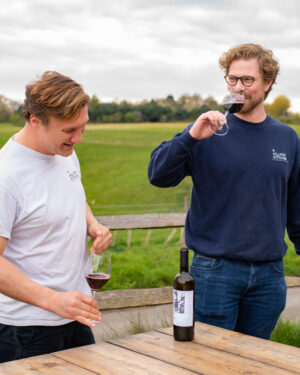 When Covid struck, Alex and his wife returned from Australia to Surrey to live with his parents, around the same time as his childhood friend Sam finished a stint as a pastry chef in a two Michelin-starred restaurant in Denmark.
It didn't take long for them to decide to set up a farm-to-table restaurant in the Surrey Hills. Initially they were looking for food trucks as a low investment solution, but then in March 2021 the lease came up on a hilltop site surrounded by stunning farmland. "There was an obvious gap in the market for a Surrey restaurant championing local food. We saw it and that was it, we ripped the window out of the small building that was here, put in bifolds and created a static venue which is neither a restaurant nor a café, but very much the best of both worlds." Now they are heading into their third season .
They get all their lamb, pork and beef from the farm and carry out their own butchery in house. A large barn behind the venue houses the prep kitchen and a smaller service kitchen is attached to the inside seating area. They have recently put in a polytunnel and vegetable beds and are looking to develop the adjacent field as a smallholding to support both this venue and their plans for the future.
"Sustainable and seasonal food is a key driver, so our ethos is to source everything from within the UK and as much as possible within the local area. Our meat comes from the farm right here, beers come from Luke at the Crafty Brewery at Dunsfold, the house Sparkling Wine and two of our still wines are from Greyfriars on the A3. We also source our house gin from Hambledon (Vann Lane Gin) which is a great small batch producer."
Something he brought back from Australia was the idea that really good food can be served in a casual environment. "We love the idea that you can have the quality that we are serving in a really fun environment in a dining area that Sam and I built ourselves. It's something we are really proud about – stripping back the fine dining culture but still delivering that level of food."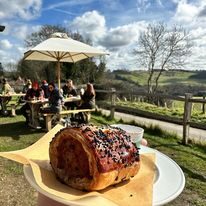 Lunch is not the only string to the Hilltop Kitchen's bow. At 9am the bakery chef puts out a full counter of delicious goodies including cinnamon buns, sausage rolls, sandwiches and flapjacks. At weekends there are bacon baps as well. The counter is kept topped up all day, with sandwiches and cakes available in the afternoon. The idea being that you can go up any time until 6pm and get something delicious off the counter that you can eat on a picnic rug (supplied by them) at a spare table, or at tables in the kitchen garden area, etc. They also have plans to put a large table in the polytunnel so it is like a second venue where you can eat surrounded by the smell of tomatoes as they grow.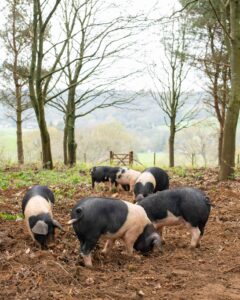 Sausage rolls are their most popular item. "We are hitting silly numbers. Off the lunch menu, well we made 800 sausages from our pigs last year. They were the most delicious sausages ever. Our pasta dish changes every week depending on what is in season but it is also one of our signature dishes."
They also run supper club events. Alex was concerned that new customers weren't getting a chance to book before these were sold out so now they have the dates in the diary, but don't tell anyone. The first week of every month they send out a newsletter and open up the bookings channel telling everyone that its open and what the menu will be (in April it was a three-course lamb feast). The idea is a fun, celebratory evening that is not too late – enjoying a bottle of wine with lovely views.
They have invested heavily in a new kitchen team and some management staff so they have someone on board to support them as they take the next step. "We are desperately looking for a rural pub to take on by the autumn – somewhere within five to ten minutes of the Hilltop kitchen. Wewant to support the community that has been so supportive to us and love the culture of having our own farm, so if you go to the café you can go to the pub and it's all from the farm that's three minutes down the road.
The idea is to find a pub and have it ready to open September/October time. "Traditionally Sam and I have had to create an income throughout the winter from this site, but November December is quite hard – the heaters aren't enough and it is quite hard to motivate a team to come back and work in such cold conditions every day. So the idea is to move into the pub with the team and just use this space for special events throughout the winter. Then next summer we would run both sites simultaneously, so it needs to be close so I can help run service in both places, that's my main joy – talking to people."
Alex credits Cranleigh for nurturing his passion and skill for communicating and getting to know people: "We had an incredibly good year group and have ended up with wonderfully supportive friends. Coming out of education I struggled in an office environment and went into hospitality as a waiter to try and figure out my life a bit, I never looked back and front of house is perfect for me.
"I would love to mentor anyone who is scared about making that step into the unknown, the hospitality industry can be a dangerous place with pitfalls to get around and I'd be happy to do anything I can to help people navigate their way and enjoy the wonderful side of doing something they love.
"I feel that every single person coming out of school should work in a restaurant. The communication skills you get, the work ethic, the ability to empathise with people who are working pay check to pay check and understand how the real world works are really valuable to take with you to university or into whatever your next step is."