On Friday, September 10 a large audience, which included a number of Old Cranleighans and current and former members of the Common Room, gathered in the chapel to hear an inaugural concert given on the new Mander organ by Bruce Ogston, Philip Scriven, the new Organist in Residence, and the world-renowned Thomas Trotter.
Guy Waller, in his programme notes for the evening, paid tribute to the generosity of Hamish Ogston (Cubitt 1966) which had made the installation of the organ possible.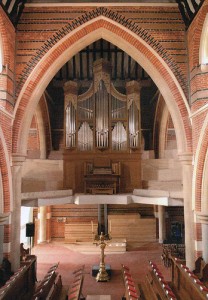 "It was as a Choral Exhibitioner at the Cranleigh of the early Sixties that Mr Hamish Ogston first made a contribution to Chapel life. Both Hamish and his older brother, Bruce, began their musical careers at Salisbury Cathedral Choir School with Sir Douglas Guest, and then with Christopher Dearnley, the distinguished Old Cranleighan organist.
"Hamish's most recent contribution to Cranleigh has been truly astounding. His remarkable generosity in funding the 2010 Mander Organ has triggered a full-scale renovation of the Chapel of the Holy Child, and we have high hopes that his generosity will continue to encourage others to help us to finish this work. We have been fortunate that several benefactors have already been inspired by Hamish's lead, allowing us to accomplish the following tasks to date.
"The interior surfaces have all been restored, as far as possible, to their original form. In the early Sixties, the walls were painted in white emulsion and the ceiling in eggshell blue. Luckily, the Sanctuary escaped this treatment because the pipework of the old Compton organ was fitted in behind and all around the altar. The hand-painted biblical script, an original feature throughout the whole building, was therefore preserved in the Sanctuary, which was patiently restored in the late Seventies by a team of helpers under Mr Geoffrey Donald, a member of Common Room and a generous benefactor of the restoration and organ-installation work.
"The organ gallery has been constructed, and is capable of supporting the eight-ton instrument in place against the west wall. It also allows the organist to be able to play in safety, but it is not ready for any others to use. The current finish is still in steel and fireproof cladding. The oak panelling for the seating, the stairs, the banisters and the flooring is still missing, as are the lighting and the railings at the front of the gallery.
The first fixing for the Chapel lighting is in place, but the remainder of the system for lighting and sound is incomplete. In addition, new pews have been designed which are in keeping with Sir Henry Woodyer's original concept for the building, but which will also complement the new gallery seating and organ casing.
"There is little doubt that the Chapel will look even more stunning when this work is complete. There is even less doubt, however, that the work would never have been started without the amazing generosity of Mr Hamish Ogston."