After several years of negotiations an announcement is being made today that a new school – Cranleigh Abu Dhabi – will open in 2014.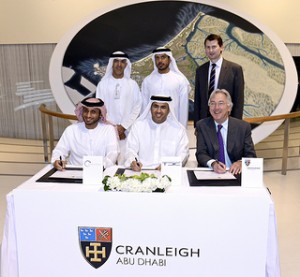 Located on a seven-hectare site on Saadiyat Island, the school will cater for up to 1600 students aged between 3 and 18. It will incorporate separate, co-educational Junior and Senior schools, and will also offer boarding facilities, which is a first for Abu Dhabi.
It will be set up and operated independently of Cranleigh School and Cranleigh Prep, and will not impact in any way on the workings of the two schools in the UK.  There will, however, be close and mutual co-operation between the establishments.
A dedicated project team of Sam Watkinson (2&3 South 1987), Rick Johnson (1 North 1991) and Head of Cranleigh Prep, Michael Wilson, have over the past 18 months been working tirelessly on making this happen, while several OCs based in the region, including Sanjeev Doshi (2 North 1991) Simon Copleston (Loveday 1991) and Nick Whitfield (1&4 South 1991), have contributed enormously.
There will be more details in the next edition of Contact magazine.
To get a real sense of Cranleigh Abu Dhabi, please click here to see a video.