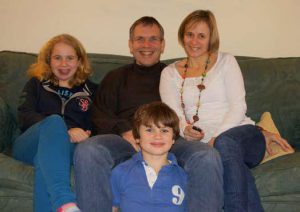 The first edition of Contact, in September 1996, announced the appointment of Guy Waller as our new Head from September 2014. Sixteen years and fifty editions later, we announce the appointment of our next Head, Martin Reader.
Martin has been Headmaster of Wellington School, Somerset, since 2006. He gained an MPhil in English Studies at Oxford, and before Wellington taught at St Edward's (Oxford), Oundle, and Reigate Grammar where he was Deputy Head.
He also has an MBA in Educational Leadership International. He played Rugby for Oxford and was on the bench for the 1989 Varsity Match. Not to be outdone, his wife Amanda will be running her second London Marathon in the spring. They have children aged 13 and 10.
Martin sees our 150th anniversary as a wonderful opportunity to enhance the Cranleigh family: School, Old Cranleighans, Foundation and Parents. "I see the OCs as absolutely essential to the future and ethos of the school, and would like to see many joint events with OCs and current parents."
He sees also "an inextricable link between the village and school communities" which he hopes to promote.
Coincidentally the family lived in the village when he taught in Reigate, Amanda was brought up locally, and they were married in Wonersh Church!  Church, it should be added, is very important to them: "Christianity is
central to my life."
"I am fully committed to the development of co-education so that it works really well for every child in the school and to sustaining a strong local boarding community… We have a moral obligation to ensure each child gets the best… Though I am most interested in sport because it is what I do, obviously I embrace art, drama and music also, and I would hope to sing in choral groups… I will probably not teach, but I may tutor extended projects, take part in university preparation, and give occasional lectures."
"My biggest challenge is following Guy. I know I will not change the ethos of the school. I would like to make Cranleigh a household name recognised for the excellence of its education."
We wish him and his family well.