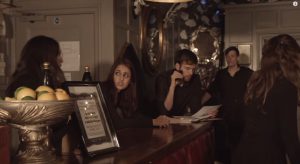 Tom Lyle (Loveday 2003-2008) is part of a  fresh new London-based a cappella group named AfterParty.
The singers do not receive a wage for their performances, they are all employed/in education. They are proud to have performed in aid of several charities over the last couple of years. They are most proud of their partnership with the Teenage Cancer Trust: they have hosted a fundraising performance at the top of the Shard in aid of the Trust, and perform in support of their fantastic work as much possible.
Now,  in their biggest attempt to raise funds yet, they have released their first professional music video and single in aid of the Teenage Cancer Trust.  The track (a studio recorded arrangement of an Ellie Goulding chart-topper) will be linked to the video as a paid download, with all proceeds going straight to the TCT.
Click here- all download sales go straight to this amazing cause, and it is only 70p, so please share it with your friends.