Ashley Cordwell (East 2006) has opened the Forest Gallery in Petworth.   Mike Payne went to have a look.
You studied Law, French and Spanish after Cranleigh.  Why change tack to the Art business after that, and open your new Forest Gallery in November 2016? 
I think the biggest influence has to be my parents' art business which they ran for 30 years until they retired in 2010.  As a child, growing up the business was a big part of family life and having seen how difficult and all-consuming being self-employed could be I wanted to pursue my own career outside of this.  That being said, I appreciated how dynamic and interesting a vocation it was for my parents.  I made the decision to train as a lawyer back when I was in the sixth form at Cranleigh but years later whilst completing my final year of legal training I felt that I would be shoe-horning myself into a department and speciality rather than doing something I was passionate about.  It was about six months before qualification as a solicitor that my mother sadly passed away and that really acted as the catalyst I needed to pursue this and set up the new gallery.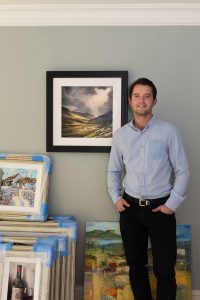 How much did your education before then help your new venture?
I don't think I would have been able to set up the gallery without having completed my legal training; not only purely from a legal knowledge perspective but just a confidence and general maturity which I didn't have in my early 20s.  My legal background has been of great help in applying for planning permission since the building is Grade II listed and we also had to apply for a change of use for part of the building which was residential and has now been incorporated into the gallery space. I'm also liaising with some Spanish art dealers and so it always helps to be able to speak the language.
Why did you choose Petworth as your base?
Petworth has been known as a destination for antiques, interior design and boutique shops for a while and has a great reputation for arts and culture.  A London art gallery opened up a branch in Petworth a few weeks after I opened Forest Gallery so the town now has three dedicated art galleries as well as many of the interior design and antiques shops having artwork on display.  There seems to be a real push towards promoting the town as an art hub outside of the hustle and bustle of London and the bigger nearby cities such as Chichester and Guildford. Locally there are attractions such as Goodwood and Cowdray Polo as well as Petworth House drawing around 150,000 visitors annually.
What style of art have you chosen to promote, and why?
There's a real mixture on display of both contemporary and traditional styles but I try to focus on original paintings.  Everyone's taste in art varies so wildly that I think it can be a mistake to hone in too much on one style or genre.  The hard part is spotting great paintings of all styles and not just selecting artwork that appeals to your own tastes.
What is the state of the art market at the moment, and how confident are you of success?
There has undeniably been a shift to buying and selling artwork online as with many other products these days.  I think we are lucky in that we specialise in original paintings and so it isn't as straight forward to compare like-for-like and simply buy online what you saw in a gallery. Pieces range from about £30 – £10,000 and so customers will invariably want to see paintings in the flesh when paying larger amounts of money.  We also have a really well designed website with all the stock online which acts as a second shop window for us.  I don't want to jinx it but the first few months have gone to plan; I think I will have a better idea of what the gallery is capable of after the first year of trading here in Petworth.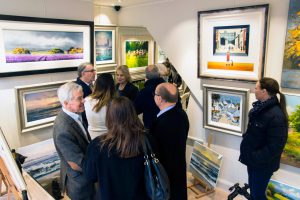 Do you travel widely to buy paintings to sell, and if so where do you go?
That would be nice!  Everyone comes to us at the moment including dealers and artists from Germany, Holland and other parts of Europe.  I have a trip to Spain in mind for the not too distant future but nothing is in the calendar yet.
Can you say how many people, on average, enter Forest Gallery daily, and how many purchase something when they do?
I haven't found much of a pattern yet although as expected Saturday seems to be the busiest day in terms of footfall and takings.  I've spoken with some other local independent businesses who find the same.  I'm hoping that with the warmer weather and the beginnings of the tourist season things will really take off but that remains to be seen.
What are your ambitions beyond today?
There's so much to think about at the moment it's hard to plan more than a few months ahead.  I would like to build on existing relationships we have with artists and dealers to eventually become one of the best galleries in the South of England for the type of artwork that we display.  I'd love to have a large gallery one day with so much selection that it's almost impossible for customers not to find something that they love.