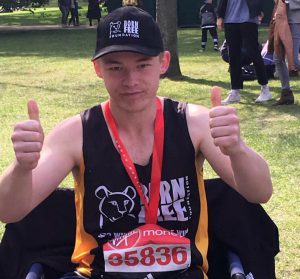 We are delighted to report that all eight Cranleighans and Old Cranleighans (there may be more who slipped through the net) who ran the London Marathon on April 23 completed the course and raised almost £16000 for charity.
Lewis Bedford (Cubitt 2017) knocked off an unbeaten 63 for the 1st XI against Eastbourne on Saturday before finishing the Marathon in 4 hours 45:40 raising £1630 for the Born Free Foundation.
Caileigh Faure (South 2015) finished in 4 hours 30:17 and raised £2193 for the RNIB.
The oldest OC runner, Hamish Gowen (South 1986) finished in 5 hours 35:55 and raised £1192 for PHAB.
Katharine Berrow (West 2010) ran the course in 6 hours 19:59 and raised staggering £4327 for the Anthony Nolan Trust. Morgan Fletcher (West 2010) was also running for the same charity and raised £2345, finishing in 3 hours 43:30.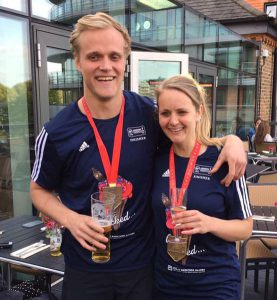 Ellie Sutherland (South 2013) ran the distance in 4 hours 48:16 and raised £2065 for MIND. Also running for that charity was Maisie La Costa (West 2014) who raised £2065 and finished in 6 hours 48:18. Maisie was missed off our pre-race list for which we apologise.
Last but not least, Tim Williams (West 2014) came home in 5 hours 39:51.
Many congratulations to all eight and all those who ran the London Marathon.