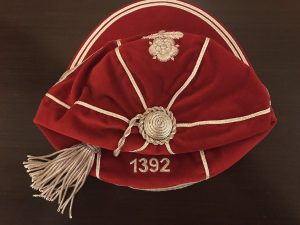 Will Collier (East 2009) became the eighth Old Cranleighan to win a full England cap when he came on as a 62nd-minute substitute against Argentina on Saturday.
Tweeting a picture of his cap, he said: "Couldn't be prouder to pick this up yesterday. Thanks for all the messages, one hell of a game!"
He is the first OC to pull on an England shirt since Jeff Clements (East 1951), who won the last of his three caps in 1959. Clements was also the last player to be called up when playing for an old boys side and the Twickenham programme for the Scotland match lists his club as Old Cranleighans.
Winger 'Jake' Jacobs was the first OC to be capped, turning out five times in all, and was an ever-present in Wavell Wakefield's Grand Slam side in 1923-24. He scored a hat-trick of tries against France that season, the last Englishman to do that at Twickenham until 1980.
The hey-day for the OCs was in the 1930s when Alan Key, Maurice Bonaventura, Maurice McCanlis, Jeff Reynolds and Bob Carr all won caps, while Clive Wallis also turned out for Ireland.
Collier has overcome recent injury set-backs – he missed the second half of the 2015-16 with a knee injury and two months this season with a broken ankle – and England coach Eddie Jones has identified him as one of the players with the potential to break into his squad by the time of the 2019 World Cup in Japan.
"He'as got bits and pieces of his game he's got to work at … he's a young guy, he's got a good body, he's got a good attitude so he's got a good head start so it's quite exciting," Jones said. "By the end of the tour I want him ahead of Dan Cole so Coley looks and says goodness me if I want to continue in the England team I have got to keep improving.
"I have seen enough and talked to enough players who have played with him or against him to know he is worth putting some time into."