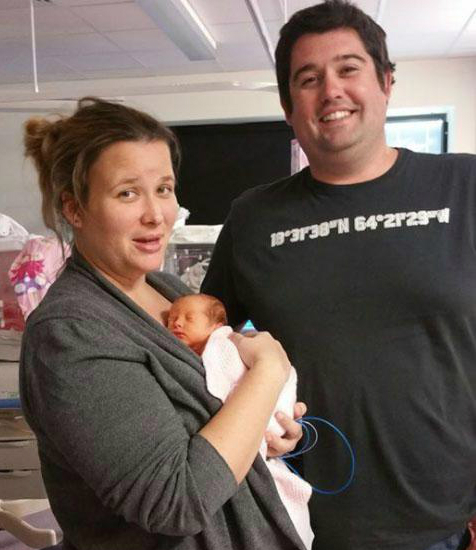 We are pleased to confirm that Alex Ashman (East 2004), his fiancee Kate and the couple's four-month old triplets –   are all safe and well after their home on Tortola in the British Virgin Islands was hit by Hurricane Irma.
The plight of the Ashmans was widely covered in the UK media.  The Sun reported that they "cowered in a shower while holding a headboard over their triplets as Hurricane Irma ripped off their roof" along with Kate's sister CJ, an American friend Nick Cunha and his British wife Jayne Gray.
As the house started to collapse they escaped through a window. "The  house was a gauntlet of destruction," Cunha told the Sun. "First a balcony went, then the kitchen.We ended up in the only remaining room, a recently constructed bathroom. The three women each held a baby. Me and Alex were holding a bed headboard over us all."
Alex, Kate and the girls have now been evacuated to Puerto Rico and from there they hope to make their way back to the UK.  But they face a bleak homecoming as they have lost everything. "We're  starting again," he said. "People in Puerto Rico have donated enough clothing for us to be able to get back to the UK Once we are back, we'll start buying everything."
Alex's sister, Victoria (South 2006) said: "Help for them to get their lives back together would be good so whether people can donate money, clothes, baby equipment, they have literally lost everything. They escaped wth only their passports, phones and the babies so you can imagine what needs to be replaced! They have lost clothes, shoes, laptops, cars…everything."
A friend has set up a just giving account specifically for Kate and Alex (https://www.gofundme.com/relief-fund-for-kate-alex-family) while Victoria has set up a more general one to help the BVI (https://www.justgiving.com/crowdfunding/british-virgin-islands).  Any help anyone can give would be hugely appreciated.
Physical donations (baby clothes etc.) should please be sent for the attention of Alex Ashman or Kate Jackson, c/o Unit 5 Hillside Ind Est, London Road, Horndean, Hampshire, PO8 0BL.  They will be delivered from here to Alex and family when they arrive back in the UK.
The long term aim would be for the family to return to the BVI. However, the devastation has wiped out the tourism industry and with the apparent damages to the power plant it could take six months to a year to get power running across the island.