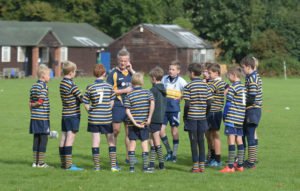 The newly acquired Weston Green Sports Club has been brought into use to accommodate the expansion of the OCRFC's minis section, with up to 400 youngsters now able to take part in the Sunday-morning sessions.
The lease on the club was bought by the OC Society in July with a significant contribution being made by the OCRFC.  There has been extensive clearance to the grounds which had become very overgrown, and this has created a lot more parking as well as made the two clubs far more closely linked.  In the short term there is also additional parking on two old tarmac tennis courts, although the longer-term aim is to install two netball courts for local schools and clubs.
The old clubhouse at Weston Green, which was built around the same time as the one at the OC Club but has never been modernised, has also had almost £30,000 invested in decorating and upgrading the electrics.
The club will continue to host football as it has for years, as well as the Sunday rugby.