The OCHC 1st XI completed a cracking season with a league-cup double, earning promotion to the National League by winning South Premier and capturing the Surrey Cup for the fourth time in succession.  There were also promotions for the men's 3rd XI and ladies 2nd XI.
The OCRFC 1st XV secured their place in London SW2 with important wins over the bottom sides but found the going tough with only three league wins after Christmas.
The OCCC's defence of their Cricketer Cup crown ended with a one-wicket loss to Bradfield Waifs in the second round after they had defeated Old Alleynians in the first.
The OC golfers lost to Ampleforth in the first round of the Halford Hewitt but beat City of London, Oundle and Mill Hill in the Princes Plate before going down to Lancing in the semi-final.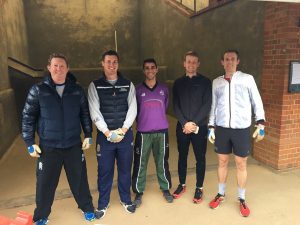 The first fives fixture in several years took place in April when the OCs took on- and beat – the School.
In rugby, Jamie Barden (Cubitt 2018) captained the England Sevens team in the Paris leg of the HSBC Sevens, the first OC to captain an England in a major sport since Hubert Heron skippered England's football XI against Scotland in 1875.  He also played in the England Sevens side which won the Olympic Qualifying tournament in France, ensuring GB will be in the 2020 Olympics.
In hockey, James Gall and Will Calnan played for Great Britain men in the FIH Pro League, while Izzy Petter (South 2018) became the first OC lady to play a major sport for her country when she represented GB in the ladies FIH Pro League.
In cricket Ollie Pope (Loveday 2016) has been sidelined since  he dislocated his shoulder in April and required surgery.  He is hoping to be back in action for Surrey in August.   He had started the season with a career-best 251 for Surrey in the County Champion match.  Michael Burgess (North 2012) moved from Sussex to Warwickshire on loan in May, and will join them permanently on a two-year deal at the end of the season.