The highlight of the last few months has been the Old Cranleighan RFC celebrating its centenary at a packed dinner at Twickenham in September. Over 300 people turned out and huge thanks to Will Fawcett (East 1984) for all his hard work in helping to make this happen. On the field, the 1st XV have had a mixed start to the season.
The Old Cranleighan Hockey Club's men's 1st XI are enjoying their first season in the National League and at the time of writing are sitting at the top of the Western Conference. The club as a whole continues to expand and are now fielding nine men's and six ladies' sides at weekends.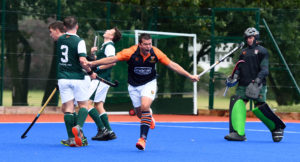 The OC Golf Society's season is winding down and plans are underway to celebrate its centenary in 2020. The OC Squash side have drawn Millfield in the first round of the Londonderry Cup in November, and we are now told the long-awaited new squash courts at the School will be ready for September 2020, hopefully triggering a resurgence in the sport. It is hoped that there will be a fives match against the School before Christmas.
In cricket, Ollie Pope (Loveday 2016) returned with a bang from the shoulder injury which sidelined him for almost four months. He was called up as injury cover for the 4th Ashes Test in August after a double hundred for Surrey, and at the end of the season was included in the England squad for the Test series in New Zealand.  He was also named Surrey's Batsman of the Year and the Players Player of the Year. Michael Burgess (North 2012), who switched from Sussex to Warwickshire in the summer, had made himself a first-team regular at Edgbaston by the end of the season.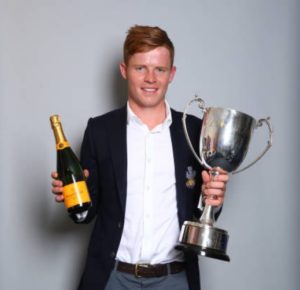 We should also congratulate Cranleigh CC who reached the national finals of the club Twenty20 competition with a side that included nine OCs; Seren Waters (Loveday 2008) even flew back from Saudi Arabia for finals day.
In professional rugby, Hugh Tizard (Loveday 2018) made his first-team debut for Harlequins in October in a side including two other OCs, Dino Lamb-Cona (East 2016) and Will Collier (East 2009), while Henry Taylor (Loveday 2012) has made an excellent start for his new club, Northampton Saints.
In hockey, Izzy Petter (South 2018) won her first England cap after already impressing for the Great Britain side in the FIH Pro League.
At the School, the rugby side is unbeaten going into Long Leave. Two of the XV, Will Trenholm and Oscar Beard, spent the summer holidays on tour with England Under 18s and are currently in the U18 development squad.