Amid all the fuss about Roger Federer possibly making another Wimbledon final, at almost 40 he is still a positive youth compared to the oldest man ever to take part in the singles, the wonderfully named Turketil George Pearson Greville (2 North 1884) who was 59 when he played his last match.
George Greville entered Cranleigh in 1881 at the age of 13 and remained until 1884. He gets a couple of mentions in the school magazines, mainly for tennis and fives. His two younger brothers also went to Cranleigh and dominated the dormitory tennis competitions. On leaving Cranleigh, Greville went into banking but played a considerable amount of tennis in and around London. His career spanned almost 50 years, playing his last major tournament in 1933 when, aged 65, he entered the Queens's Club singles.
In 1899 Greville married Edith Austin., twice Wimbledon finalist and three times winner at Queen's. Their lives and tennis careers were to be inexorably intertwined thereafter.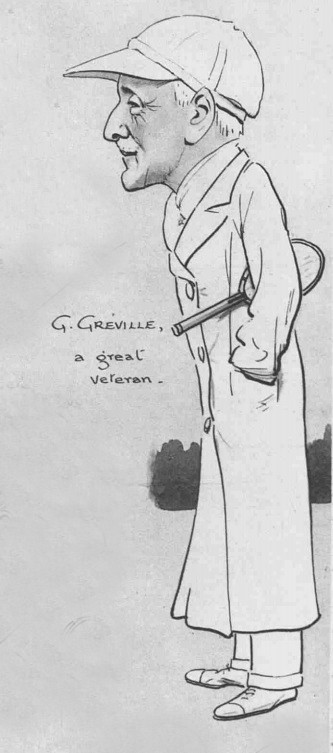 Greville was a well respected player of whom it was written that his powers at the net are unquestionable" and "he knows the game thoroughly". He first entered the Wimbledon singles in 1896; the following year later he reached the quarter-final, doing so again in 1898 and 1902. In those days first and second round losers entered a plate competition; Greville won this in 1900, beating Davis Cup player Ernest Black in the final, and again in 1904. He also competed in the gentlemen's doubles, reaching the semi-final in 1904 and the quarter-final five times between 1896 and 1901. His greatest achievement came in 1903 when he won the men's singles at Queen's; Edith lost the final of the ladies' singles, one of her ten appearances in the final of the tournament (she won three).
Greville played less after 1904, although he still featured in local events and in 1913 he entered the Wimbledon mixed doubles with his wife. They lost in the first round.
On retiring from banking in the mid 1920s, Greville once more started competing actively. In 1926, aged 58, he entered Wimbledon after a 22-year hiatus and in the first round beat New Zealand Davis Cup player Russell Young, 34 years his junior. He remains the oldest man to win a singles match at the All England. He lost in the second round to eight times French champion Max Decugis.
Greville returned in 1927, losing in the first round. At 59 years and three months he remains the oldest man to take part in the Wimbledon singles tournament. He did enter the qualifiers in 1928 but scratched.
In retirement he became Hon Secretary of the Queen's Club, which helps explain how he continued to enter the tournament into his mid sixties. He stepped down from the role during the war, and died in 1958 at the age of 91. His wife pre-deceased him.