As two Cranleighans (Izzy Petter and James Gall) prepare to take part in the delayed 2020 Olympic Games, we look at the eight Cranleighans who became summer Olympians before them.
Horatio Poulter (East 1890 – Shooting, Stockholm 1908) Research has only recently uncovered Cranleigh's first, and most successful, Olympian. Poulter was a member of the GB shooting team at the 1912 Games, all members coming from the military. He won bronze in the team 30 metre military pistol event as well as in the team 50 metre military pistol competition. In the individual 50 metre pistol event he finished sixth.
Frank Dove (1 North, 1915 – Boxing, Antwerp 1920) Dove, a leading south London amateur for almost two decades after the First World War, boxed for Oxford University in 1920 and captained his university in 1921. He boxed as a heavyweight for Britain at the Antwerp Olympics. After receiving a bye in the first round he was defeated in the quarter-finals — the referee stopped the bout in the third round – by the eventual silver medallist. He continued fighting, although as a light-heavyweight, and as late as 1939 was still winning amateur bouts.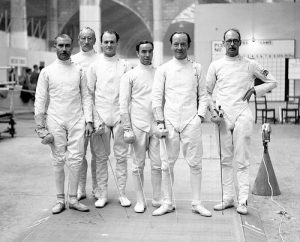 Charles Rew (East 1914 – Rowing, Paris 1924) Rew was stroke in the Great Britain Eight which finished fourth in Paris and he went on to establish a reputation as one of the leading coaches in the 1930s, coaching Cambridge in the 1935 and 1936 Boat Races.  He served in both World Wars, in the army in 1914-18 and the navy in WW2.
Ron Parfitt (2&3 South 1931 – Fencing, London 1948 and Helsinki 1952) Parfitt (pictured bottom on right) learnt to fence at Guy's where he was studying dentistry and went on to represent Britain at the epee in both individual and team events at two Olympics. He was British epee champion in 1948 and 1950. At the time of his death in January 2011 he had been the oldest living British Olympian for three years.
Richard Wheadon (2 North 1951 – Rowing, Melbourne 1956)  Like Parfitt, he learned to row at university where he became Cranleigh's second rowing Blue when bow in the winning 1954 Oxford team. After a strong performance for the Royal Air Force Eight at Henley in 1956 — "strong and hard-working" according to the Times – he was drafted into the Olympic squad. However, it was a poor Games for British rowing and the Eights failed to make it through the heats. Wheadon subsequently coached Oxford and went on to be a national rowing coach and a committee member of the Amateur Rowing Association.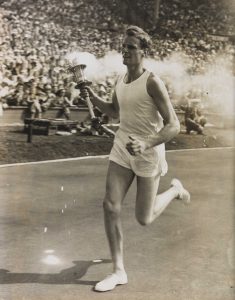 David Westcott (2 North 1975 – Hockey, Los Angeles 1984) Westcott, who had played in the same Oxford University side as a rather older Guy Waller, taught at Cranleigh for a year in 1979-80 to give him time to prepare for the 1980 Moscow Olympics, but those ambitions were scuppered when the British hockey team backed a government request to boycott the Games as a reaction to the Soviet invasion of Afghanistan. His chances seemed to have ended when Britain missed out on qualification for the 1984 Los Angeles Games, but, somewhat ironically, Britain gained a last-minute call-up when the USSR decided a boycott of their own. Westcott was named as captain of the team on the eve of the tournament. Britain were unbeaten in the group matches but lost 0-1 to Germany in the semi-finals before winning the bronze-medal play-off against Australia 3-2.
Don Williams (2&3 South, 1984 – Hockey, Barcelona 1992) Williams — unbelievably to those of us who know him — claimed to have given up alcohol for eight months to prepare for the 1992 Olympics. His first match, against Egypt, was memorable in that he got sent off, but things got better thereafter. However, in a tough group Britain finished third after losing their deciding game against old rivals Australia but Williams took no further part in the tournament as he perforated an eardrum in the match. Britain eventually finished fifth.
Perhaps the least likely – and certainly the least sporting – Olympian OC was Thurston Monier Williams (2&3 South 1941) who represented Great Britain in Art Competitions in the 1948 Games.