James Harpur (2 North 1975) has just published a book of poems based around his time at Cranleigh. The Examined Life is a powerful, poignant and humorous account of school life during the first years of Marc Van Hasselt's headmastership.
Here among bell-tormented corridors and the 'Crimean beds' of the dormitories can be found a cast of school characters, customs and events, including a sex education lesson that backfires, a midnight fire drill, away matches in crumbly Gastonia coaches, and legendary masters such as Mugsy Maguire, Nobby Wyeth and Neggers Richardson. James also conjures up such vignettes as Pink Floyd wafting through the Quad, the era of power cuts and candlelight, and the mounting queasiness of passing through Wonersh or Shamley Green en route to school.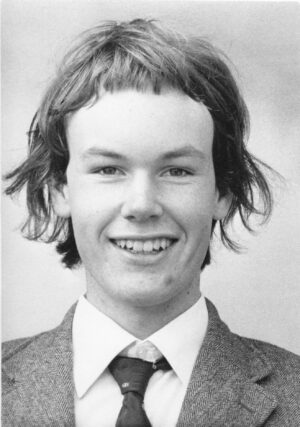 Born and raised in Weybridge, James went to Wallop School before entering Cranleigh in 1970. He was following in the footsteps of his two brothers, the scholarly Patrick (West 1967), now an acclaimed writer, and John (West 1971), the notorious 'Monty' Harpur, who was believed to be responsible for every misdemeanour committed at the school, from adding a third hand to the school clock to driving an exhibition army tank around the South Field.
James says about his book: 'I wanted to balance the stresses of school routines and exams with the camaraderie and fun, such as witnessing Nobby Wyeth bopping at a girls' school dance, or a scary nighttime jaunt to The Wheatsheaf on the back of my brother's motorbike. I also wanted to capture the twilight years of the hippie era – when just beyond the black-and-white life of school there flowed a world of flowery shirts, pink loons, kaftans – and the long hair we were desperate to have!'
Rooted in the topography of the school and the landscape of south Surrey, James's odyssey is one that every OC – and future OC – will relate to.
To buy the book go to: https://tworiverspress.com/shop/the-examined-life