On Wednesday, May 11th, Simon Cooper (2 North 1982) and colleagues from the insurance business will be starting a 480km cycle ride from London to Amsterdam over three days in support of Cure Parkinson's.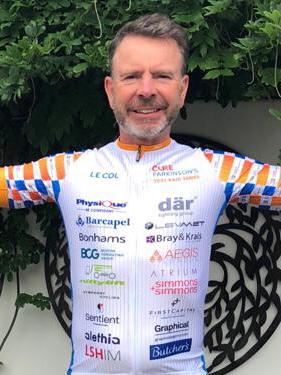 Simon was disgnosed with Parkinson's five years ago, since which time he has worked closely with the Cure Parkinson's charity. In January he decided to raise funds for the charity with a sponsored bike ride from London to Amsterdam.
"I reckon I'm allowed one shot at raising as much money as possible to stop the effects of Parkinson's and this is it," he said. " I promise that I won't be asking again next year. So this is a request to sponsor me on a tough 480km cycle ride over three days."
Initially, he saw himself as a figurehead who would start and finish each day and in between ride in one of the support vehicles. But as he ramped up his training he began to enjoy it more, and as his fitness improved it had a beneficial effect on his Parkinson's. The net result is Simon is now riding the whole distance and would appreciate your support. Details of the ride and his Just Giving page can be found here.