After a break of three years it was wonderful to welcome Old Cranleighans back to the School for OC Day on Saturday, July 2nd. Fortunately the sun shone throughout.
The format was the familiar one. Drinks in the Quad were followed by a service in the Chapel and then lunch in Hall for the decade reunions as well as some extras squeezed in after the cancellations of 2020 and 2021.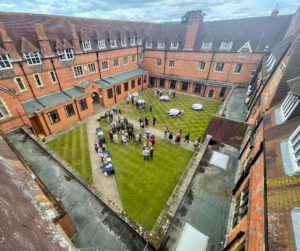 Those not in Hall were able to enjoy the hog roast on Jubilee with the extra – and very popular – addition of the Moooh Ice Cream van from the village which did a roaring trade. A delicious early tea was laid on in the pavilion for those who had room.
The sport consisted of two hockey games between the UVIth Leavers and the OCs – the OCs won the men's game 4-2 and the ladies 4-1. On Jubilee, the Headmaster's XI beat the Upper VIth Leavers by five wickets in the final over.