For Tom and Osha Hufton the timing of the lockdown in 2020 was particularly unfortunate. Tom had just started a sabbatical from oil broking and had ambitious plans for how to spend his time. Osha was thinking about returning to work — she had run photo desks until their second son was born — while the family were looking forward to some expensive holidays.
One day in the summer Tom returned from a cycle ride where he had seen a café called the Cookie Bar in Haslemere. It was run by Larry Sullivan and what caught Tom's attention was that it operated as a social enterprise, a business whose primary purpose was addressing a social challenge rather than creating profit for the owners. In Larry's case it was to help a local special needs school, enabling students to bake cookies and sell them, and also help in the café itself. Tom discussed this with Osha and said he would love to do something similar.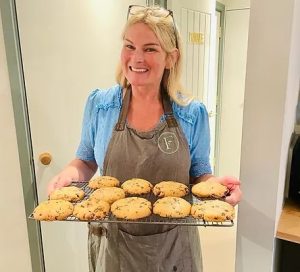 In Shamley Green, a mile or so from the Hufton's home and two miles from Cranleigh, there had been a café, the Speckledy Hen, running out of the old blacksmith's forge since 2010. Osha, whose boys Harry and Freddie were at nearby Longacre school at the time, had spent a lot of time in there as it was a favourite post-drop-off meeting point for parents. However, it had closed at the start of the pandemic and never reopened ("we were all so gutted") and at the time it was up for sale. Tom and Osha had been discussing their charitable trust and how to take it forward. "We realised that the vacant forge was perfect," Tom said. "Sometimes opportunities are just staring you in the face."
"We bought it in lockdown and then it was a case of finding a team around us," Osha said. "We also wanted it to be very local, so, for example, the architect is from Shamley Green and the builders are based in Shalford." The building also needed a lot of work. "It's so gorgeous but it just needed some love. And I also love light. We simply opened it all up and let the light flood in."
The amazing interior came about thanks to a link with Matthew Burt, a furniture maker from Salisbury. "We have known him and used him for some time. About seven years ago he asked if we would be interested in sponsoring a young lad called Harry as his apprentice. We love wood and we love joinery, so we did." As a result, Tom said it would be fantastic if Harry made all the furniture. Although the whole team from Matthew Burt was involved, Harry led the project.
While the building dates back to the first half of the 19th century, the stunning feature of the café is the very modern service bar "because we love mixing new and old". Planning required numerous trips to Salisbury where almost all the interior was built.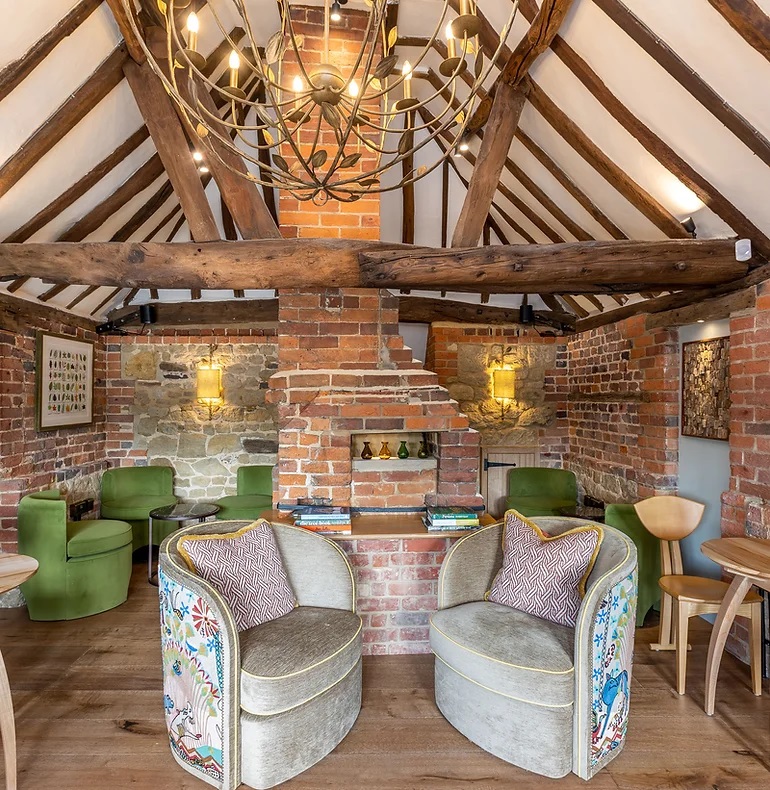 As building work drew nearer to completion, they started to look around for staff. "Coco, our General Manager, was introduced to us by Paul Plewman (1 North 1996), one of Tom's best mates from School. Coco used to work with Paul and then went off to South America and learned everything there is to know about coffee before returning to work at Soho House in London. She came to our house to give us a barista lesson and within minutes I said to Tom: "'We've got to have her on board'. The idea, especially the social enterprise aspect, appealed to Coco, who loves setting up projects, that's what she thrives on." Soon after a friend of Osha's recommended a chef she knew, Clara, and she too came on board.
As spring 2022 gave way to summer, the project neared completion. "We were meant to do three soft launch days but they had to be cancelled as we weren't ready, so in the end we just went for it. I had sleepless nights while we were doing the place up but, come the day of opening, I knew that everything that was my baby had been done and it was down to Coco and the coffee, because we wanted to be known for amazing coffee."
The Forge on the Green opened on 5th September and a mix of friends and curious locals made sure it was buzzing from the off. "The local community came along. Loads of people came and it's steadily got busier and busier as word has spread. Many customers remarked how friendly the staff were. "We had a top barista that Coco knows come in on the first day. That evening she asked him how he had found it. Used to the frenetic pace of London cafés, he replied it was all "very suspicious.. everyone is so nice and chatty and complimentary".
But the key part of the whole venture for Tom and Osha is the social enterprise aspect, which is coordinated by Osha's sister, Robyn. The charity, Forging Futures, has three aspects to it — baking, work experience and an apprenticeship — and to achieve that a relationship has been established with Gosden House just outside Bramley, an all-girls school for children with learning and additional needs.
The Forge on the Green shuts every Thursday with four 16-year-old students from Gosden House being taught how to bake cookies, allowing them to raise funds for various projects at their school, starting with the student Common Room. Crucially it also gives them confidence. "We will also give them help in working in the hospitality world, so we can teach them how to use
the machines, the till, etc. and in their last week here they get to invite their parents and they will serve them. They are wonderful, and they are so excited about working here and so willing to learn.Each project is six weeks long and then a new group from the school will start. One of them who does the six-week programme will be offered a one-year apprentice scheme when they have finished their education. We will also look to give a fortnight's work experience. It's so nice to be able to help, and for them to feel wanted." The first apprentice recently completed the scheme.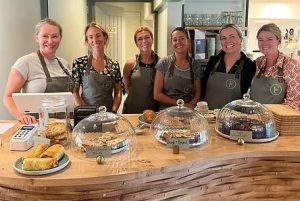 Tom's involvement is behind the scenes as well as, with Robyn, being very much the driving force behind the charity, Forging Futures. He also briefly harboured dreams of working in the café. "He wanted to come and help, and he has, but he gets far too involved in chatting to people while we're all running around." So has he been fired? "Yes… but he does come in for breakfast and lunch on a Friday with his bicycling crew." But while barred from front of house, Tom remains vital. "He was such a vision behind it and he allows me to get on with it. I don't have to run everything past him but there are certain things he wants a big say in and they've been great."
Being a charity, friends have been keen to offer support. "Half the people here at the moment are my mates, which is amazing, but it's getting busier and busier so we are looking for more staff." Although it has only been open a short time, the Forge on the Green has already proved a big success, not only for the community to use but also putting something back into it. "I wouldn't change anything," Osha concluded. "I've enjoyed it so much more than I thought I was going to."
Click here for details about The Forge
Click here for details about Forging Futures