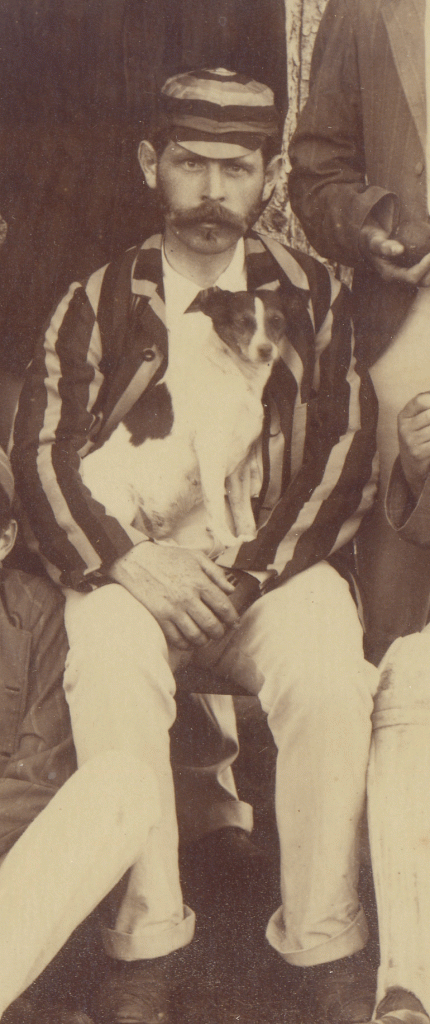 Henry Casswell is an almost forgotten figure in Cranleigh history – in Alan Megahey's History  of Cranleigh School he warranted one passing mention – and yet aside from Joseph Merriman, the first headmaster, no single figure made more impact on the early life of Cranleigh and the Old Cranleighans.
Casswell was born in Lincolnshire into an established farming family.Although he was widely referred to as H.E. Casswell there is no official record he ever had a middle name.  His father died not long after and for reasons lost in the mists of time the 16-year-old Casswell was accepted as a pupil by Merriman in 1866, a year after the School opened.  There is no explanation as to why a Lincolnshire farmer's son ended up at a school in Surrey, but he was taken on as a pupil come trainee teacher.
As a pupil he made almost no impression.  He played  1st XI cricket without much distinction, although that he was able to do so at all was remarkable given he had lost the lower part of his left arm in an accident as a teenager. This handicap was overcome with such success that it did not seem to prevent him throwing himself into every aspect of School life once he graduated to being an assistant master in 1868.
Casswell did not seem to be particularly academic and he never rose above teaching the lower forms. When he eventually retired the valete referred to "his untiring devotion to the athletics of the School" but made no mention of his scholastic abilities.
It was outside the classroom that he was outstanding.  Dick Harris, a contemporary teacher at Cranleigh, said "he was quite the boys' ideal of what a sportsman should be and there was not a boy who did not look up to him as the very best man to try to imitate".
He rode, he played football, he shot, he was an excellent tennis and fives player, he sang bass in the choir and played the coronet in the orchestra.  His greatest success, however, came as a cricketer for the School and the village.  Despite his physical handicap he was an outstanding batsman –  in 1874 he scored eight hundreds for the village side in an era when wickets were so crude as to make a hundred uncommon even for the entire team. As a slow underarm bowler he regularly took 100 wickets in a season.
As travel was a major obstacle, most Cranleigh School sporting fixtures were against club sides, until the 1890s masters played alongside the boys in all matches other than those against other schools.  Between 1866 and his final match for the School XI in 1887, Casswell took 736 wickets and scored 3826 runs, including four hundreds.  It is hardly tempting fate to say neither aggregate will be broken. He only once took part in the annual match between old boys and the School, not wishing to penalise the boys by playing against them but at the same time feeling it was unfair as a genuine old boy to play with them either.
In 1881 Casswell  floated the idea of forming an  Old Cranleighan Club, writing to all known old boys with the idea of starting football and cricket sections.  To kick things off he suggested a dinner, and the inaugural OC Dinner took place in Holborn on January 25, 1882.  Casswell was in the chair – as he was to be for the first 12 OC Dinners – and took charge of all secretarial and financial aspects of the venture.
In that same year Casswell launched an appeal to raise funds for the construction of a pavilion on the Common, at the time shared between the School and the village.  A few shabby tents had sufficed until then. Within months the necessary £208 had been found and a thatched pavilion built in time for the 1883 season where it remained until it burned down in 1955.
In 1886, five years after floating the idea, Casswell announced the formation of a football club based in London.  It played its first game in October and continued with great success until the outbreak of World War One; when post-war life resumed in 1919 many players and all remaining funds were transferred to the new OC Rugby Club.  Further success came when Casswell completed the remaining part of his original plan by helping in the formation of the OC Cricket Club – with no fixed home but based in London – in 1890, and that continues to this day.
1891 was a watershed year for Casswell. Firstly Merriman, a close friend as well as his headmaster, announced his resignation. While there is no evidence Casswell's relationship with George Allen, Merriman's successor, was uneasy, it is clear from surviving records he  quickly became a peripheral figure. In that year he also met Anna Luttman-Johnson, a widow of means, and in December at the age of 41 he married her at Albury Church in a service conducted by Merriman.  The pair had met in the village, where Casswell lived, and they settled down there.
In March 1894 Casswell left Cranleigh. Given how he had been at its heart for so long, it is surprising his departure warranted a brief nine lines in the Cranleighan and barely a mention in the short-lived Old Cranleighan Notes magazine. Thereafter his association with School and old boys was greatly reduced. He attended a few dinners, generally when close friends of his were in the chair, and increasingly few Whitsun reunions. It is hard not to suspect his disassociation was connected with the change of headmaster.
Casswell and his wife moved to Rusper where he became a gentleman farmer. He had two sons and a daughter, the boys being sent to Tonbridge rather than his alma mater.  He immersed himself in village life, becoming a local councillor and leading figure in the parish.
He died at his home of Spanish flu during the pandemic of 1918, a year after his eldest son had been killed fighting in France.   His passing was almost forgotten among the pages in the Cranleighan of obituaries for those who perished in the war, although Harris paid a glowing tribute later in the year.
Without doubt Casswell's energy and enthusiasm was important in the early days of the School and it also laid the foundations for the modern Old Cranleighan Society and all its branches, sporting and social.