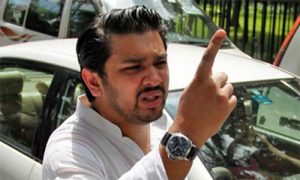 We are delighted to report that Hummam Chowdhury (2&3 South 2000), whose illegal detention in Bangladesh has been a source of concern for almost seven months, has been released. The whereabouts of two other men seized by security forces at the same time remain unknown.
Amnesty International and Human Rights Watch reported that Hummam was released near his family home. He is believed to be well but it is likely that severe restrictions, which may amount to virtual house arrest, have been put on him as a condition of his release. His family are working hard to find out more information.
"The release of Hummam Quader Chowdhury is one positive step, but he should never should have been held in secret detention in the first place," said Brad Adams, Asia director at Human Rights Watch. "The Bangladeshi authorities need to now come clean about what has happened to Mir Ahmad Bin Quasem and Abdullahil Amaan Azmi, and provide their families with answers. They were picked up in front of relatives and other eyewitnesses and there is little room for denial that security forces were involved in their enforced disappearances."
International pressure has mounted on the Bangladeshi authorities over these and other cases. Last week, the United Nations Working Group on Enforced or Involuntary Disappearances called on the government to reveal the whereabouts of the three men and all other victims of enforced disappearances in the country. The working group's statement, citing concern over a rise in enforced disappearances over the last few years, was endorsed by several other UN experts. Human Rights Watch and Amnesty International have been raising concerns about these disappearances for many months.
Authorities have denied holding the men in custody, although family members cite multiple credible sources to confirm the men were held by different branches of security forces since their abductions, including the Rapid Action Battalion and the military intelligence Directorate General of Forces Intelligence.
"Enforced disappearances have become a scourge in Bangladesh. For far too long, far too many families have lived with the grief of not knowing where their loved ones are," said Biraj Patnaik, South Asia director at Amnesty International. "The Bangladeshi authorities need to put an end to this criminal practice immediately. They should bring those suspected of criminal responsibility to justice in fair trials without recourse to the death penalty."