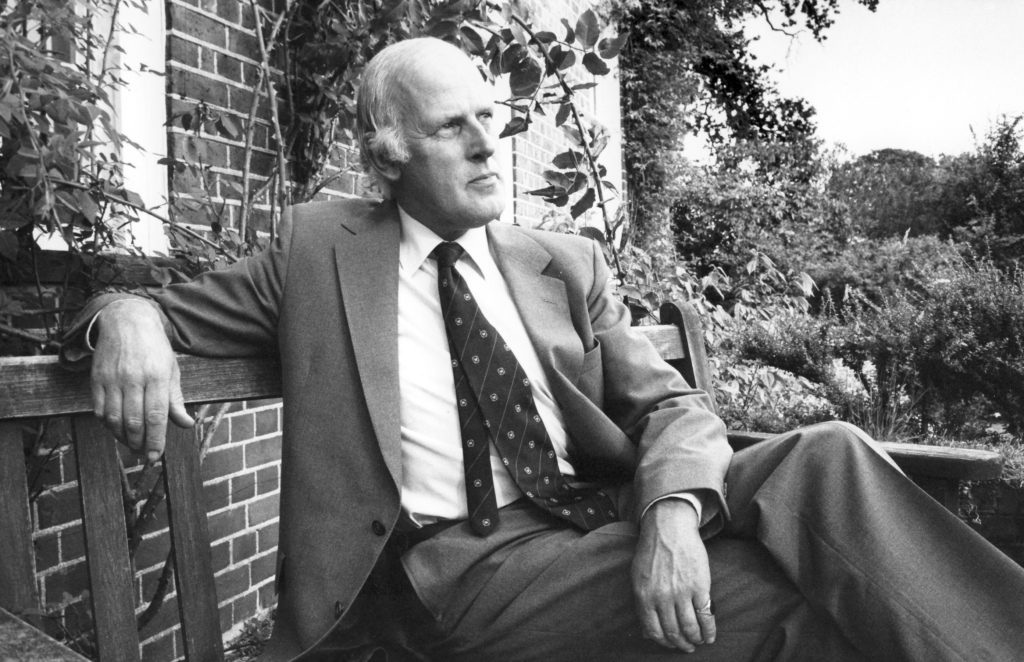 It is with great regret that we have to announce that Marc van Hasselt, who was Cranleigh's Headmaster between 1970 and 1984, died on June 28 at the age of 93.
He remained very close to Cranleigh in his retirement, often visiting for formal occasions and Speech Days. In later years the current bursar regularly visited him at his Dorset Hampshire home to update him as to the state of the School. Marc was particularly touched by the announcement that the new academic block currently under construction was to be named in his honour. When shown the plans he showed a keen interest in the detailed design and was most encouraged that the building bearing his name would take the School forward with a strong academic focus.
He was educated at Sherborne – much to his regret as he wanted to go to Charterhouse because they played football – and Selwyn College, Cambridge. In between he served with the Essex Yeomanry and took part in the D Day landings and in 2015 he was awarded the Legion d'honneur by the French Government for his contribution to the liberation of France. After graduating from Cambridge he spent a year at Oxford, and from there eight years lecturing at the Royal Military Academy, Sandhurst. In 1959 he went to Oundle "to do some real schoolmastering" and from 1963 to his appointment to succeed David Emms at Cranleigh he was a housemaster.
Marc was the bridge between the old-fashioned teacher who was headmaster and the more modern chief executive. He inherited a thriving school and maintained its high standards despite having to endure the economic chaos and rampant inflation of the 1970s as well as changing social attitudes towards public schools. "It was Marc's great achievement not merely to advance the work of his predecessor but also to consolidate it," said Richard Hastie-Smith, the chairman of governors during much of his time. "He did this in a number of ways, perhaps the most obvious the extensive building programme which was carried out during his term of office."
He started by pushing for the closure of the farm at High Upfold and its conversion into the Sixth Form Centre and continued with a serious of new projects including modernisations of much of the accommodation. His crowning glory was Loveday House in 1980 which was very much his baby. He funded this ambitious programme by keeping the School full, which was no mean feat at a time where many rivals were struggling. To him, the building was a sign of confidence in the future.
He was not afraid to drive through changes, some of which were not popular. He brought in the first full-time girls in 1971 and by the time he left there were 64 in the sixth form. Despite initial doubts, by the end few doubted this had benefited the School. He, albeit briefly, introduced sex education. He increased parental contact with pupils by increasing exeats, and was the first Headmaster to travel abroad to recruit pupils from overseas. He was keen that his pupils were not isolated from the realities of the outside world."
Marc was a passionate sailor – his entry in Who's Who listed his recreation as "cruising under sail" – spending much of his holiday time on his boat. His first address to new boys in his time were memorable for the many sailing references about safe harbours and unchartered waters.
"He had vision," said Ken Wills, his second master for ten years. "He understood people. He had boundless energy, immense determination and tremendous courage. He was devoted to Cranleigh and its debt to him is enormous."
In retirement he was able to devote more time to sailing. He also found real and lasting happiness with Tessa, his second wife, at their home next to the sea overlooking the Isle of Wight and on their trips to Brittany.