After 18 months of varying degrees of disruption, sporting activity has returned to relative normality.
OCs continue to make a mark in rugby, with as many as four in the Harlequins starting XV recently. Two of them – Oscar Beard (North 2020) and Will Trenholm (North 2020) – have both signed new contracts but Hugh Tizard (Loveday 2018) will move to Saracens at the end of the season. "Although it was an incredibly hard decision, I feel that it is the right decision for my rugby," Tizard said. "I want to challenge myself and grow as a player and I feel Saracens will be the perfect place to do that." Trenholm, Hayden Hyde (East 2019) and Jamie Barden (Cubitt 2018) were in the England Sevens side which won bronze at the HSBC World Rugby Sevens in Malaga.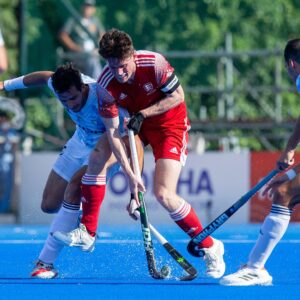 In hockey, James Gall (Cubitt 2013) captained England for the first time when they met Argentian in February.
Ollie Pope (Loveday 2016) was part of the England side who were beaten 4-0 in the Ashes but he retained his place in the squad for the current series in the Caribbean. "It was a brutal trip," Pope said of the Australian trip. "It didn't go to plan from the moment we landed really … you get yourself in a good mental place for the first game but, if we're being honest, it went downhill from there. I think as a kid, [The Ashes in Australia] is everything you dream of and in the back of your mind, you want it to go that way and lift the trophy, score a lot of runs. Obviously, for a lot of us, it didn't go to plan." Back at home, Tom Lawes (Cubitt 2020) signed a one-year deal with Surrey.
In February, Greg Slade (Cubitt 2020) and Andy Lapthorne won the quad doubles at the second of two back-to-back world ranking tournaments at Bolton Arena. "I've been training hard over the back-end of last year and the start of this year, with new goals and new focuses and it all seems to be working based on my results in Bolton," he said. "I didn't expect to come away with a title, so for this to happen and to get such big wins so early in the year is just unbelievable."
The OCRFC 1st XV have found the going tough after starting the season with two wins and a draw and are now in the bottom two of London 3 South West. The OCHC men's 1st XI sit mid table in Division 1 South – although they have only lost four matches, they have drawn five. The Ladies 1st XI are on a remarkable run and sit second in London Division 2 South after 13 straight wins.